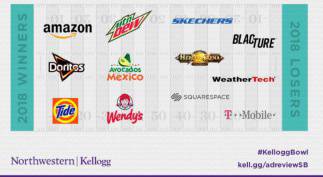 The Super Bowl, the championship game of the National Football League in the USA, was played earlier this weekend. It was estimated that almost 110 million viewers watched the Philadelphia Eagles beat the New England Patriots. Almost as big as the game, is the space between the game. This is referring to the advertisements (commercials) during the game breaks.

The photo used in this post is from the Kellogg School of Management at Northwestern University. Beginning in April 2018, students at the NUCB Business School have the opportunity to take off-campus Executive Education modules from Kellogg and use the credits towards graduation requirements for the NUCB degree.

Kellogg is well-known as the leading business school for marketing. According to these 'Kings of Advertising' Amazon was the big winner among all the advertisements shown in the four-plus hour-long game. To read the full details of the ad review, visit Kellogg's homepage (Kellogg ADPLAN).

As a unique offering through the NUCB Business School, students have the chance to compliment (or augment) their marketing expertise and skill by doing a short program that has been preselected by NUCB's curriculum committee. The courses include Business Marketing Strategy, Consumer Marketing Strategy and Kellogg on Branding.