Sitting down with assistant professor Jonathan Damiani, it was a good opportunity to discuss his courses taught in the Global Leadership Program at NUCB Undergraduate level. These courses will also be part of our BBA, a 4-year undergraduate program fully taught in English.
---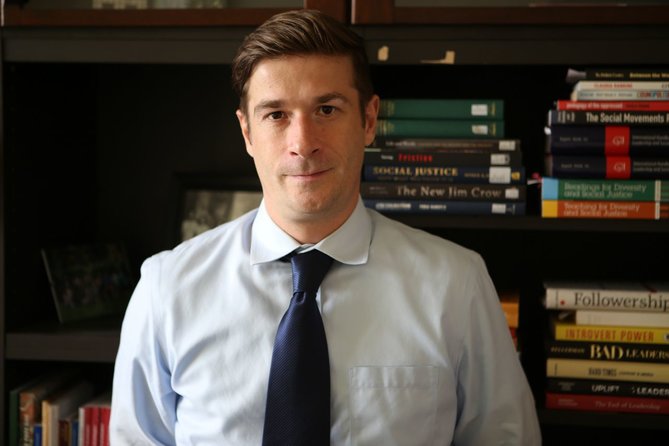 ---
Summary of courses
In my five years at NUCB I have been invited to develop and teach six different courses for the GLP Program. Three of these courses relate directly to the core of my research interests—namely leadership development and student/worker voice. While my expertise lies largely in educational leadership, many of the building blocks of my research come from outside of the field of education. I incorporate elements of leadership theory, organizational theory, and systems theory culled from the field of business. I have spent time learning from and teaching other business concepts that relate to my work in education by focusing on concepts like followership, and disciplines from developmental psychology to group dynamics in an effort to demonstrate the significance of this work not only for educators but for business people and for individual development.

Purposes of your courses
Each of these three leadership courses provides the GLP students with a unique experience.

Rethinking Leadership is an exercise in realizing the student's potential as leaders in their own right as they develop their emerging practical theories of leadership with my support.

Leadership & Social (In)Justice is designed to examine the complex intersections of race, class, gender, sexual orientation, religion and ability, and how they shape the experiences of diverse groups of people. We explore each of these concepts as a social phenomenon: as socially constructed systems of meaning and corresponding social structures. The course, which has been a favorite of many GLP students, highlights societal problems and issues focusing particularly on those pertaining to racism, classism, sexism, heterosexism, ableism, and religious oppression. The goals for this class include: increasing personal awareness, expanding knowledge, and encouraging action.

Organizational Design & Change is designed to introduce interested students to a set of appropriate sensibilities, theories, and practical tools required for understanding organizations and management. This course emphasizes artistry, choice, and leadership, and is designed to expand upon lessons learned in my Rethinking Leadership class and can be taken in tandem with that course, as a follow-up to that course, or as an individual course.

I also teach two courses centered on culture.

Culture, Conflict & Awareness is designed to help students meet the challenges of living in a world in which, increasingly, they will be asked to interact with people who will differ in fundamental ways. Its overarching goals are to help students become more sensitive to intercultural communication differences and to provide them with the knowledge and skills that will help them interact successfully with people from cultures other than their own.

Contemporary Japanese Culture stems from my own foreign exchange experiences in Japan (so many years ago), my background in Japan and East Asian studies, and examines cultural objects which are as recent as possible in an attempt to survey Japanese culture as it is now. The scope of objects and
practices examined will be wide-ranging, including social class, gender, religion, cinema, anime, manga, literature, fashion, music, food, and art. The course will stress primary engagement with these cultural forms and the active testing and calibration of cultural theory. Finally, this course invites students to critically reflect on their own experiences of contemporary Japanese culture. Students will relate these reflections to the course content, and conduct meaningful and original research throughout the semester.

Creative & Critical Thinking stems from my own experiences with creating original research and fostering a push towards arts-based academic work. Good ideas should always be those where an individual or group is able to apply their expertise and experience to the solutions of real social needs. To find the match between what one can offer and what will fill a need requires both originality and the questioning of assumptions. This course gives students two key experiences. The first is a careful look at some of the most relevant creative theory relative to the students and the mixed international student body at NUCB. The second is to provide students with the space to work (individually or as a team) to create their own creative and critical thinking projects.
---
---
Why are these courses special, compared to similar courses in other universities and in other countries?
Few undergraduate courses anywhere allow students the level of creative decision making free-will they are afforded in Creative & Critical Thinking. Even fewer provide students with opportunities to connect their narratives, and their experiences outside of Japan, to their new thinking about leadership as they do in my Rethinking Leadership course. Further, courses like Leadership & Social (In)Justice, and Contemporary Japanese Culture provide students from diverse cultural backgrounds with a forum to openly discuss current issues in this extremely rule-mannered, taboo-driven culture. These experiences are empowering ones for the students, as they are given opportunities to find a variety of forms of engagement that they may already be exploring, or plan on exploring in the future.
---