Weekend MBA®, Winning Strategy
The General Manager Program is designed for business leaders who aim to improve their skills while they work. Introduced in 2003 as the first Executive MBA program in Japan, we develop the next generation of leaders by maximizing the weekend to cultivate the winning attitude needed to transform your company and organization. Through practical courses focusing on case studies you'll acquire a range of management skills that you can apply directly to real business.
Start of the program

September / April

Duration

1-4 years

Language of instruction

Japanese

Requirements

5 years work exp.

Class size

Average 35-40

Degree

EMBA
---
Focused course completion in 4 days over 2 weeks
Each course within the General Manager Program can be completed in 4 days. Instead of following a distributed learning structure where individual courses are spread over a period of months, our students learn in a highly focused manner. This reduces time spent on review, and allows students to start applying their new knowledge quickly in their workplace.
---
3 Steps for effective managerial ability building
Knowledge is only useful when it is used effectively. The General Manager Program provides you with a tried and tested framework for the practical application of your new knowledge to your working life. Through repeated practice of our 3 Step learning process, you'll learn the thought processes necessary for problem solving as well as honing your decision-making abilities.
---
The Case Method - knowledge meets practicality
In line with the Global Manager Program's focus on practical knowledge, great use is made of the NUCB Graduate School's expansive stock of real world business case studies. All courses employ the "Case Method" - using the most recent business cases available as learning materials. Case writing is a requirement of the course, so you will gain ample first-hand experience.
---
In-house excellence, ensured quality of instruction
We believe that our instructors must have practiced what they teach - nothing beats real world experience. Over 96% of our instructors have practical and experience in the business world, both in Japan and around the world. Because our instructors meet rigorous in-house standards, they are able to draw upon their experience and better train our future business leaders.
Creating a Lifelong Professional Network
For business professionals undertaking the Executive MBA program, learning from new perspectives is a key dimension of the advantage earned by students in the General Manager Program (GMP). The range of backgrounds and depth of experience lends to valuable class discussions and constructive debates that result in an environment of mutual learning. The personal bonds formed by our students goes far beyond standard classroom relationships; the network you build will benefit your professional business life and serve as the basis for many enduring friendships.
---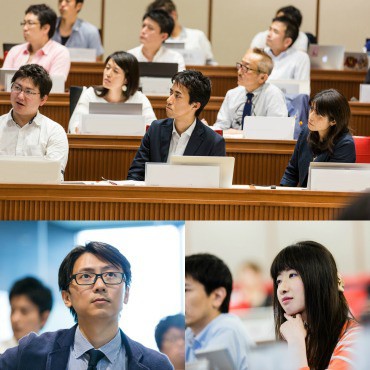 Faculty with Global Business Influence
---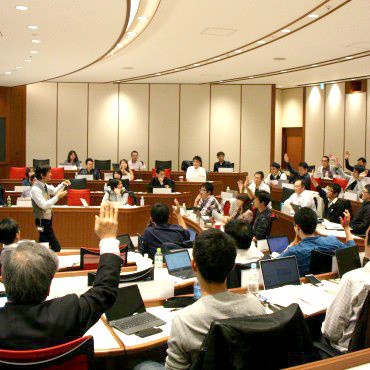 In terms of faculty, NUCB has been well ahead of the curve. As the first institution in Japan to be accredited by both the AACSB and AMBA, our programs consistently meet the strict standards of these accrediting organizations by employing faulty that exhibit strong academic backgrounds with even stronger practical business experience. More than 90% of the instructors are practitioners at the forefront of their respective fields. Even as our faculty engages in academic research, the lectures conducted by NUCB professors are based on the experience and knowledge of each lecturer and offer a hands-on learning experience with explicit business relevance.
---
Number of Students
With 224 EMBA students studying at 3 campuses, NUCB is one of the largest business schools in Japan.
---
Number of Alumni
NUCB Graduate School has already 1400 alumni, a good chance for students to improve their interconnectedness in the business world.
---
Average Age
We welcome all ages: we have students in their 20s as well as in their 60s, with the average being 39 years old.
---
Duration
80% of our students finish the Global Manager Program within 2 years. The fastest finish in 1-1.5 years.
Pre MBA Business Experience
| | | |
| --- | --- | --- |
| 3 - 4 years | 2% | |
| 5 - 9 years | 17% | |
| 10 - 14 years | 28% | |
| 15 - 19 years | 23% | |
| 20 - 24 years | 30% | |
Current Field of Business
| | | |
| --- | --- | --- |
| Manufacturing | 29% | |
| Medical & Pharmaceuticals | 23% | |
| IT / Technology | 9% | |
| Service | 8% | |
| Consumer Goods | 8% | |
| Logistics | 4% | |
| Financial Services | 4% | |
| Tax Accountant / Specialist Job | 4% | |
| Oil / Energy | 3% | |
| Public Service | 2% | |
| Food & Beverage | 2% | |
| Media / Advertisement | 2% | |
| Other | 2% | |
Pre MBA Education
| | | |
| --- | --- | --- |
| Business Administration | 4% | |
| Social Science | 35% | |
| Engineering | 22% | |
| Physical Science | 9% | |
| Health Care | 5% | |
| Human Science | 4% | |
| Agriculture | 4% | |
| Foreign Language | 4% | |
| Education | 3% | |
| Art | 2% | |
| Other | 8% | |
An Innovative Curriculum
---
The three-step case methodology used at NUCB (individual study, small group work, large group discussion) works in tandem with the progressive curriculum of the GMP. As a student of the EMBA program, you will improve your overall management skills with a bird's eye perspective of various business situations while simultaneously focusing in on eight essential fields of commerce and company organization. The unique curriculum yields innovative solutions that assist you in becoming a highly innovative manager. Through the rigorous study of numerous cutting-edge business cases, you will achieve the diverse skills and thought processes necessary to manage changing business environments effectively.
Brush Up Program for Professionals
---

The NUCB Business School has received certification from the Ministry of Education, Culture, Sports, Science, and Technology (MEXT) as a 'Brush Up program for Professionals' for our Pre-MBA, MBA, Global MBA, EMBA, and Tax Account Programs. This certification is recognition from the Japanese government that NUCB is well-qualified to improve the knowledge, abilities, and practical skills of working people in Japan. In addition to the accreditation by international organizations such as the AACSB and AMBA, this domestic recognition provides further confidence to students in their employability and practical Japanese management skills.
NUCB - Professional Practical Education and Training Institution
NUCB's status as General Education and Training Benefits was upgraded on December 15, 2015 by the Ministry of Health, Labour, and Welfare to Professional Practice Education and Training Benefits. Under the new designation, which now includes all programs offered under the graduate school, eligible students can receive a maximum ¥960,000 as reimbursement for enrolling in and successfully completing a two-year program. For students of the NUCB Business School, this form of financial aid represents a compelling opportunity to start enhancing your practical and managerial skills.
---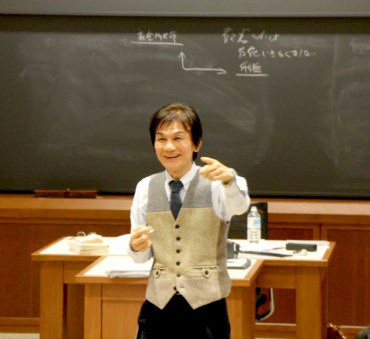 A "Real MBA" Accredited by AACSB and AMBA
There are more than 10,000 management education programs in the world. International associations, such as AACSB International and AMBA, accredit business schools which meet their strict standards for the quality of education. In the international business community, only programs with international accreditation are considered "real MBA programs".
The accreditation of our Global MBA ensures that the degree you earn at NUCB is of the highest quality and consistently meets or exceeds the requirements of these prestigious associations. Regardless of where your career path takes you in the world, an MBA from an accredited university like NUCB will be recognized and well-respected by employers and institutions worldwide.
Best Masters Ranking 2015/16
---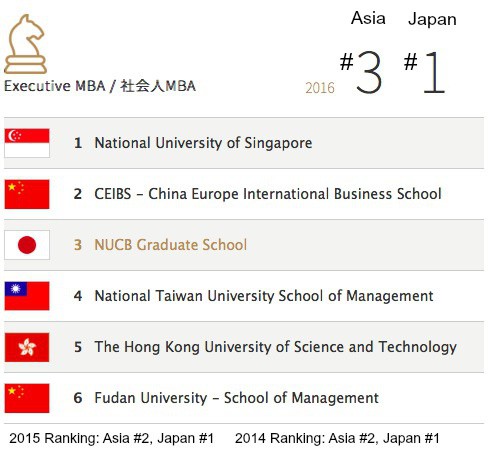 ---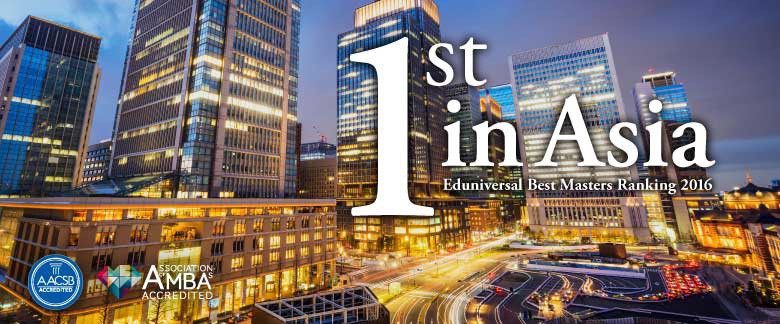 ---
Locations in 3 Major International Business Areas
All campuses are easy to access, located in the centers of 3 major cities in Japan. Students can also transfer between the campuses. Campuses are equipped with wireless internet connection and up-to-date IT facilities.
---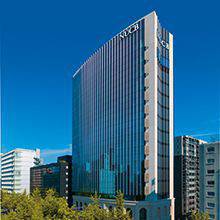 Nagoya Campus
---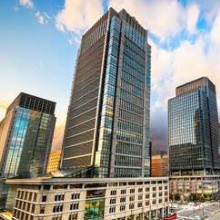 Tokyo Campus
---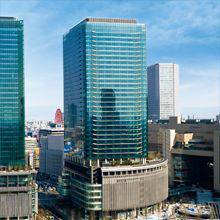 Osaka Campus
International Network of 117 Top Business Schools in 53 countries
---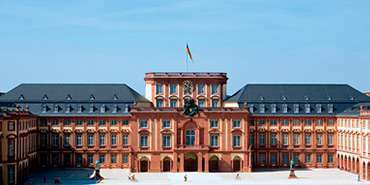 Study Abroad at Our Partner Schools
NUCB has established student exchange partnerships with more than 117 leading business schools, from 53 countries across 5 continents. In our exchange program, students are able to study abroad while tuition fees at partner schools are waived. There are also scholarship programs for study abroad students who demonstrate the highest levels of excellence.
---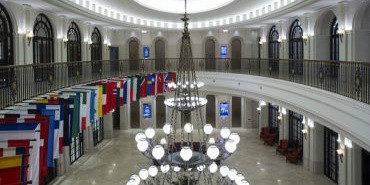 Double Degree Program
After completing one year of study at NUCB and one year of study abroad, students in our Double Degree Program obtain two Masters degrees - one at NUCB and one at a partner school. This unique program provides an advanced experience of international education, and a unique qualification with which to further your career in the global business community.