2019/02/23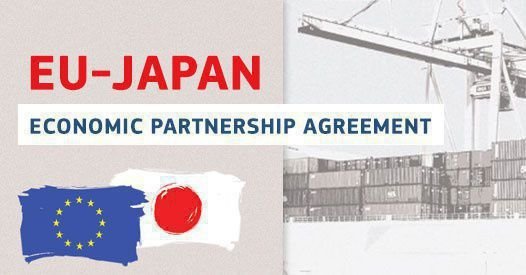 ---
The 1st of February 2019 marked the most recent and a historic milestone in the relations between Japan and the European Union (EU), as the Economic Partnership Agreement (EPA) became effective on that date. The EPA and the Strategic Partnership Agreement (SPA) represent a culmination in their relations and partnership, 5 centuries after the first trades took place between Japan and European countries.
Importance of the deal
With Japan being EU's sixth biggest trading partner and EU being Japan's second biggest trading partner, this deal almost covers 635 million people and 1/3rd of the global GDP (Japan and EU account for 28% of the world's total GDP).
It is the largest bilateral trade agreement and trade bloc in the history (at least until the Regional Comprehensive Economic Partnership, RCEP, becomes a reality), as well as the biggest trade agreement that has been ever concluded by EU.

Not only it removes tariffs and quotas on both sides, it also sets global top-notch standards in important and sensitive areas such as labor, safety, climate (the agreement includes Paris climate deal commitments, first-time ever in an international trade agreement) and consumer protection, ensuring together a sustainable development.

Despite globalization having been the trend for numerous years, protectionism has been lingering around for a while and also gained some territory in recent times, particularly since 2016 with Brexit and the election of the 45th American President.
Facing against this rise in protectionist stances, Japan and EU are both embracing the liberalization of trade policy and globalization, as the following joint statement carries the message and vision clearly: 'In giving full effect to this agreement, Japan and the EU are sending a powerful message to promote free, fair and rules-based trade, and against protectionism.'
Chronology
Initially, exploratory talks and negotiations started in 2011 and it was in 2013 that the European Commission started the official negotiations with Japan.
After 4 years of negotiations with both parties seeking the best terms possible to make sure that agreements are as comprehensive as possible, it was finalized on the 8th of December 2017.

One year later, both agreements (EPA and SPA) were signed at the EU-Japan Summit on the 17th of July. In December of the same year, both parties notified each other of the EPA's ratification, paving way to the agreements to come into force (provisionally for SPA) on the 1st of February 2019.
Benefits for Japan
Japan's Cabinet Secretariat estimates that the EPA will increase Japan's real GDP (measurement of the economic output adjusted for the effects of inflation and deflation) by approximately 1% (around 5 trillion yen) and increase employment by approximately 0.5% (around 290,000 jobs).

For 100% of products exported by Japan towards EU, approximately 99% of custom duties will be eliminated.
---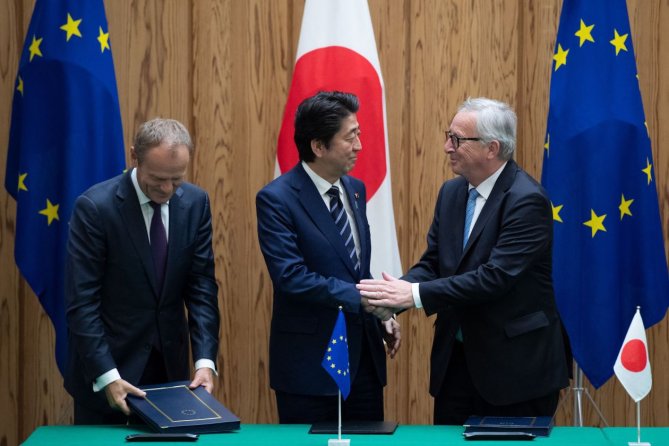 Industrial products

One of the most important aspect in the deal is for the Japanese automakers and auto-parts makers as Japanese cars will see the current tariff of 10% be reduced to 0% over the course of 7 years while the current tariff of 3% on auto-parts will also be eliminated. This is very significant because currently, Japanese automakers only have a share of 10% of the European market despite cars and auto-parts being 1/5th of Japan's exports to Europe. Hence, the elimination of tariffs will enable Japanese automakers to compete more effectively.
For carpets, more than 90% of the tariffs have been eliminated while for general machineries, chemical products and electronics, approximately 90% will be eliminated.

Agriculture, forestry, fisheries products, etc.

Every tariff on virtually all the products, including Japan's niche products such as wagyu, tea and fish, will be removed (with most of them having already been eliminated since the agreement went into force).
With no more tariff on alcoholic beverages and the elimination of EU's restriction on import of Japanese wine, their export should also grow exponentially.
Furthermore, the protection of geographical indications (GI) will be ensured on all agricultural products and alcoholic beverages, leading to a better brand awareness and image of the Japanese products and the quality they represent.
Benefits for EU
For 97% of products exported by EU towards Japan, approximately 99% of custom duties will be eliminated (annually, EU companies pay €1 billion).
---
For many European agricultural products, Japan is a great export market but the past tariffs have slowed down the potential of exports.
Custom duties will be eliminated on numerous cheeses such as gouda or cheddar while fresh cheeses like mozzarella or feta will have a duty-free quota, with EU already being the leader in the Japanese market for cheese. Tariffs on alcoholic drinks have been eliminated, opening up the doors for European wine which represents EU's second biggest agricultural export to Japan in terms of value.
For substantial amount of beef, the tariff will be reduced from 38.5% to 9% over the course of 15 years. Whereas for pork, processed meat will be completely duty-free and the fresh meat will be almost duty-free.
---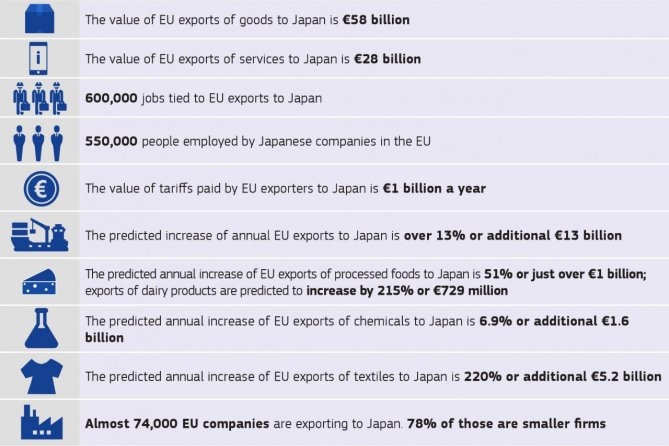 There will be increased opportunities in sectors such as pharmaceuticals, medical devices, motor vehicles or transport equipment (the latter is crucial as Japan and EU have agreed to follow the same international standards, creating a more homogeneous market) and in services markets such as financial services, telecommunications and transport.

EU companies will not face any discriminatory treatment and obstacles (particularly for the railway sector) when it comes to procurement markets in Japan's 48 largest cities, representing approximately 15% of the country's population.

Just like for the Japanese products, protection will be also guaranteed for European GIs.
What's next?
In order to strengthen the relationship between Japan and EU even further, a Strategic Partnership Agreement (SPA) was also signed together with EPA. Having been ratified by Japan, it has become effective on a provisional basis on the 1st of February 2019 and will be fully effective once all the EU member states also ratify the agreement.
The SPA, being the first-ever bilateral agreement, will serve to promote 'political and sectorial cooperation and joint actions on issues of common interest, including on regional and global challenges', such as cybercrime, disaster management, energy security, climate change, ageing population, and for other areas where cooperation is possible.
Meanwhile, Brexit is happening and the United Kingdom (UK) is scheduled to officially leave EU on the 29th of March this year. In fact, Japan and the UK agreed on a free trade agreement only on the basis of a deal taking place between EU and the UK, which will enable EPA to apply between Japan and UK as well. However, Theresa May's negotiated deal with EU was rejected by the British parliament, increasing the chances of a 'no-deal' Brexit happening. As a result, the trade ties between Japan and the UK are currently unclear.
It now remains to be seen on the 12th of March as a new vote will be held as Theresa May is working to bring the needed modifications to the deal before this new deadline.
Sources
European Commission:
http://ec.europa.eu/trade/policy/in-focus/eu-japan-economic-partnership-agreement/
http://trade.ec.europa.eu/doclib/press/index.cfm?id=1955
http://trade.ec.europa.eu/doclib/press/index.cfm?id=1976
http://trade.ec.europa.eu/doclib/docs/2017/july/tradoc_155723.pdf

Ministry of Foreign Affairs of Japan:
https://www.mofa.go.jp/policy/economy/page6e_000013.html
https://www.mofa.go.jp/files/000013835.pdf

The Japan Times:
https://www.japantimes.co.jp/news/2019/02/22/business/japan-eu-epa-wont-apply-u-k-no-deal-brexit-eu-expects-may-request-three-month-delay/

Reuters :
https://www.reuters.com/article/uk-britain-eu/may-seeks-more-time-promises-brexit-deal-vote-by-march-12-idUSKCN1QD08T

European External Action Service:
https://cdn2-eeas.fpfis.tech.ec.europa.eu/cdn/farfuture/5NlzjyWex4BUAb6PPp0gKWYOTPu1kxepN6yt50nI03s/mtime:1544695746/sites/eeas/files/factsheet_eu-japan_strategic_partnership_agreement_japan.pdf