Assistant Professor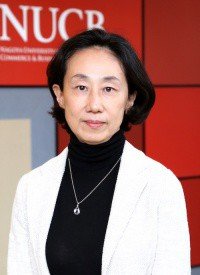 Biography
Akiko Muroya received an M.A. in Applied Linguistics and a Ph.D. in Linguistics from the University of Essex in the United Kingdom. She worked at Kanda Institute of Foreign Languages and Kanda University of International Studies before joining NUCB in 2016, Her main research interests lie in the Second Language (L2) Acquisition of English by Japanese adolescent classroom learners within a generative framework. She is particularly interested in:
(1) what possible sources of persistent variability are:
(2) how syntax and morphology/semantics interact;
(3) what the effect of the native language (Japanese) is
in the acquisition of L2 English.

Research Interests
Second Language Acquisition (syntax and the interfaces)
Final Education
Ph.D., University of Essex
Academic Papers
Akiko Muroya (2018) L1 Transfer in L2 Acquisition of English Verbal Morphology by Japanese Young Instructed Learners. Languages 2019/4 (1) :2226-471X
Grants
(2019) Variability in Second Language Acquisition: A Bidirectional Study of Young Instructed Learners of English and Japanese. Japan Society for the Promotion of Science Primary Researcher