Cultivating company-wide perspective and initiative
---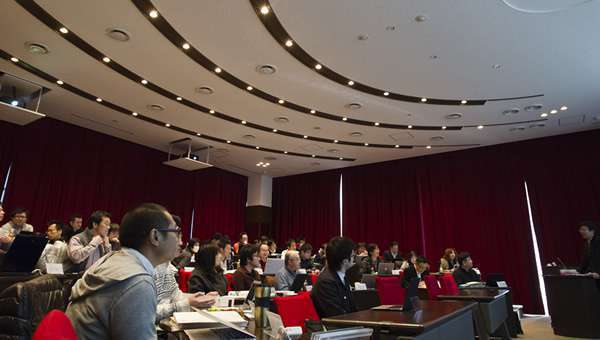 ---
NUCB Business School offers the best solution for your company's human resource issues. Our discussion-based programs are facilitated by faculty with professional experience, who have been selected among numerous businessmen. Programs are tailored to your company to help you solve specific problems.
---
Program tailored to solve your company's task
We design programs specifically tailored to your personnel, such as training to become an executive candidate or leadership training for managers. We select the best curriculum and faculty to meet your objectives and preferences.
We cultivate:
Talent who do not follow sterotypes and promote innovation.
Talent with strong sales capability / product development capability
Leadership in rapidly changing managing environments
Talent with a global mindset who can develop the overseas market
---
Case 1 Industrial Material Manufacturer
"Broader perspectives are needed in daily operation."
The client wanted their young engineers to acquire strategic mind and practical skills in order to expand the market, as well as continuously think of "What they should do to sell more". The practical learning introduced by our faculty whose specialised field is in Industrial Material Marketing was appreciated as the best environment to gain skills that cannot be acquired in workplace.
| Tasks | Courses offered | Lecture hours |
| --- | --- | --- |
| Developing marketing skills for engineers | Industrial Marketing | 10:00-17:00x3days |
Case 2 Railway Company
"Training that requires thinking"
The client had doubts about their conventional listening-only training and seeked participatory training. They decided to introduce discussion-based, case method learning system because it requires thinking and output.
| Tasks | Courses offered | Lecture hours |
| --- | --- | --- |
| Developing marketing skills for young talents with less than 3 years experience | Basic Marketing | 9:30-12:30×6days |
Case 3 Shinkin bank
"High-quality training for future leaders"
The executive officer of the client, an alumni of our, strongly believed that learning at NUCB would benefit the company's employees and decided to introduce our training. The contract has been renewed for the third time in 2013. Last year we customised a program aiming to reform staff mentality as managers to cultivate strong leadership.
| Tasks | Courses offered | Lecture hours |
| --- | --- | --- |
| Training for young executive candidates | Organisational Behaviour and Leadership / Management Evaluation / Strategic Thinking and Management etc. in total 7 courses | 9:00-17:00×3days per course |
---
Voices of participants from Shinkin Bank
---
Which skills have you learned and put to practice?
I became to think logically from the manager's perspective, as if I were the president. I also think the same way when coaching subordinates.
After the training I became aware of myself as "core staff". Now, I always try to get others involved.
Which course was the most impressive?
"Management Evaluation". The cases on Ritz Carlton and supermarkets were impressive. I learned the importance of corporate philosophy and the importance of increasing employee satisfaction.
---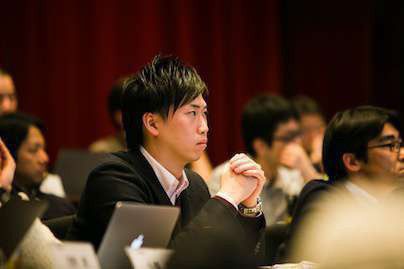 ---
The first "Workshop in the Dark" at a business school
A combination of business workshops in the dark and a lecture by a MBA faculty member. Participants experience group activities which promote self-reflection in the dark. The "reflections" are brought to case method oriented classes and further discussed to form ideas into action.
---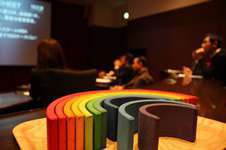 Class after the workshop in the dark
I discovered an obvious reason why my company lacks communication. (Pharmaceutical maker / Age: 37/ Female)
I realised the importance of breaking stereotypes and the importance of being open minded. The project also reminded me that there are unmet needs that may not be recognised. (E-commerce / Age:32 / Female)
I learned how imporant it is to share a goal. (Trading firm / Age: 45 / Female)
I realised that "Common language" and "Common measure" in ordinary life can be vague standards. (IT / Age : 27 / Female)
I reflected on how the way of communication that I was used to, was self-approving. The experience in the dark taught me the importance of thoughtful communication. (Board member of manufacturing company / Age : 53 / Male)
---
Dispatching / Supporting your personnel for MBA enrollment
Enrollment in MBA degree program
Acquire comprehensive management skills in minimum 1 year, just by commuting on weekends. This practical program allows students to discuss and network with diverse students from different backgrounds. Around 10% of students are supported by their employers.
---

Non-degree program
"MBA Essentials" are open enrollment courses mainly targeted for business people without MBA experience. Participants are able to experience case method learning facilitated by MBA faculty. In addition to this series of courses, screened applicants may take one course at a time from the degree program as well. In both cases, participants will study among diverse peers from different backgrounds.
---

---
Examples of employers of our students & alumni
ASKUL Corporation
Otsuka Pharmaceutical Co., Ltd.
OKAMURA CORPORATION
OMRON HEALTHCARE Co., Ltd.
ORIX Corporation
Kagome Co., Ltd.
KEPCO THE KANSAI ELECTRIC POWER CO., INC.
Sato Restaurant Systems Co., Ltd.
Sanko Kozai Co., Ltd.
SUZUKI MOTOR CORPORATION
STAFFSERVICE HOLDINGS
SECOM CO., LTD.
Sony Corporation
SoftBank Corp.
Daiichi Sankyo Co., Ltd.
Daimaru Matsuzakaya Department Stores Co.Ltd.
Takeda Pharmaceutical Company Limited
Teikoku Databank, Ltd.
DENSO CORPORATION
TOSHIBA CORPORATION
Toyota Motor Corporation
Toyota Technical Development Corporation
TOYOTA FINANCE CORPORATION
TOHO GAS Co., Ltd.
THE BANK OF NAGOYA,Ltd.
NISSAN MOTOR CO., LTD.
Eli Lilly Japan K.K.
NEC Corporation
Japan Pension Service
Nintendo Co., Ltd.
Nomura Securities Co.,Ltd.
FAST RETAILING CO., LTD.
Fujitsu Marketing Limited (FJM)
BOOKOFF CORPORATION LIMITED
BROTHER INDUSTRIES, LTD.
Furukawa Electric Co., Ltd.
Mizuho Trust & Banking Co., Ltd.
Mitsubishi Motors Corporation
The Bank of Tokyo-Mitsubishi UFJ, Ltd.
Mitsubishi UFJ Lease & Finance Company Limited
Menicon Co. Ltd.
Yamada Denki Co., Ltd.
Yamato Transport Co., Ltd.
Yokogawa Electric Corporation
Unicharm Corporation
Recruit Holdings Co.,Ltd.
KDDI CORPORATION
Start with one course of MBA essentials
5 days, Evening program
A series of courses that offer essential MBA knowledge can be registered from JPY40,000. Best fits for candidates who wish to study about specific fields, or aim to enhance practical business skills. Learning among peers from diverse background will enable you to acquire knowledge and skill sets you can never gain at workplace.
Applicants supported by their employers are screened by documents without an interview. The application for candidates supported by their employers is open until one week after the deadline.
---

---
Recruit top-class personnel
Excellent human resources including MBAs, tax accountants to-be, and future leaders are enrolled at NUCB. Please feel free to contact us if you are interested in recruiting them.
Contacting our students & alumni
If you are interesting in recurinting our students, here are some ways to contact them.
Convey your company at an information session at our campus
Post recruiting information on the NUCB online bulletin board / NUCB Facebook page
Post-internship information for MBA students
Inquiries
Please feel free to contact us. TEL:052-231-8111  Email:mba@nucba.ac.jp
Please include the following information in your email. 1. Name of enterprise 2. Type of business 3. Company URL 4. Inquiry
---
| Course | Faculty | Class Schedule | Deadline | Status |
| --- | --- | --- | --- | --- |
| General Management Program | | 2019/7/20,21, 8/3,4,31, 9/1 (Sat,Sun) | 2019/6/21 金 | Accepting |
| Strategy for Startups_Nagoya | Prof.Kazuhiko Kato | 2019/7/20-21 (Sat,Sun) | 2019/6/21 金 | Accepting |
| Management Essence_Osaka | Prof. Yukihiro Makita | 2019/7/27-28 (Sat,Sun) | 2019/6/28 金 | Accepting |
| Creative Thinking_Tokyo | Yuriko Sawatani | 2019/7/27-28 (Sat,Sun) | 2019/6/28 金 | Accepting |
| Practice of Case Method_Nagoya | Prof. Haruo Takagi | 2019/7/27-28 (Sat,Sun) | 2019/6/28 金 | Accepting |
| Health care manegement_Nagoya | Visiting Prof.Mitsuo Ogawa | 2019/8/31,9/1 (Sat,Sun) | 2019/8/2 金 | Accepting |
| Corporate Ethics and Corporate Governance Regarding to Healthcare_Tokyo | Prof. Tomofumi Anegawa | 2019/8/31,9/1 (Sat,Sun) | 2019/8/2 金 | Accepting |
| Management in Regulated Environment | Prof.Yuji Nagasawa | 2019/9/7-8 (Sat,Sun) | 2019/8/8 木 | Accepting |
| Critical Thinking_Nagoya | Visiting Lecturer.Kei Tsuchiya | 2019/9/28-29 (Sat,Sun) | 2019/8/30 金 | Accepting |
| Strategy for Startups_Nagoya | Prof.Kazuhiko Kato | 2019/9/28-29 (Sat,Sun) | 2019/8/30 金 | Accepting |
| Organizational Behavior Management_Osaka | Prof. Tadao Onaka | 2019/9/28-29 (Sat,Sun) | 2019/8/30 金 | Accepting |
| Creative Thinking_Nagoya | Visit Lecture.Kei Tsuchiya | 2019/10/5-6 (Sat,Sun) | 2019/9/6 金 | Accepting |
| Organizational Behavior and Leadership | Prof.Haruo Takagi | 2019/10/5-6 (Sat,Sun) | 2019/9/6 金 | Accepting |
| Strategic Negotiation_Osaka | Prof. Osamu Ueda | 2019/10/12-13 (Sat,Sun) | 2019/9/13 金 | Accepting |
| MBA finance_Tokyo | Prof.Kazuhiro Takino | 2019/10/12-13 (Sat,Sun) | 2019/09/13 金 | Accepting |
| Financial Essence_Tokyo | Prof. Seiwa Tanaka | 2019/10/19-20 (Sat,Sun) | 2019/9/20 金 | Accepting |
| Accounting Essennce _Osaka | Prof.Masao Tsuji | 2019/10/19-20 (Sat,Sun) | 2019/9/20 金 | Accepting |
| Organizational Behavior Management_Nagoya | Prof. Tadao Onaka | 2019/10/19-20 (Sat,Sun) | 2019/9/20 金 | Accepting |
| Basic Corporate Reconstruction_Nagoya | Prof. Osamu Ueda | 2019/10/26-27 (Sat,Sun) | 2019/9/27 金 | Accepting |
| Creative Thinking_Tokyo | Prof.Yasutomi Kitahara | 2019/10/26-27 (Sat,Sun) | 2019/9/27 金 | Accepting |
| Digital Marketing_Osaka | Prof.Takashi Yamaoka | 2019/11/2-3 (Sat,Sun) | 2019/10/4 金 | Accepting |
| Management decision making in Healthcare Business | Yasutomi Kitahara | 2019/11/9-10 (Sat,Sun) | 2019/10/11 金 | Accepting |
| Critical Thinking_Tokyo | Prof. Yuji Nagasawa | 2019/11/16-17 (Sat,Sun) | 2019/10/18 金 | Accepting |
| Accounting Essennce _Osaka | Prof.Masao Tsuji | 2019/11/16-17 (Sat,Sun) | 2019/10/18 金 | Accepting |
| Trend Marketing_Tokyo | Prof. Takeshi Matsui | 2019/11/23-24 (Sat,Sun) | 2019/10/25 金 | Accepting |
| Basic Corporate reconstruction_Tokyo | Prof. Osamu Ueda | 2019/11/23-24 (Sat,Sun) | 2019/10/25 金 | Accepting |
| Creative Thinking_Osaka | Prof.Sawatani Yuriko | 2019/11/30-12/1 (Sat,Sun) | 2019/11/1 金 | Accepting |
| Practice of Case Method(Summer Semester)_Nagoya | Prof. Shinichi Takeuchi | 2019/11/30,12/1 (Sat,Sun) | 2019/11/1 金 | Accepting |
| Digital finance_Tokyo | Prof.Senoguchi Jyunsuke | 2019/11/30-12/1 (Sat,Sun) | 2019/11/1 金 | Accepting |
| Political science of organizational behavior | Prof.Takashi Kitamura | 2019/12/7-8 (Sat,Sun) | 2019/11/8 金 | Accepting |
| Digital Marketing_Tokyo | Prof.Takashi Yamaoka | 2019/12/7-8 (Sat,Sun) | 2019/11/8 金 | Accepting |
| Business Model Design_Osaka | Associate Prof. Ryusuke Koyama | 2019/12/7-8 (Sat,Sun) | 2019/11/8 金 | Accepting |
| Design Thinking & Strategic Management_Osaka | Yuriko Sawatani | 2019/12/14-15 (Sat,Sun) | 2019/11/15 金 | Accepting |
| Business Medel Design | Prof. Ryusuke Koyama | 2019/12/14-15 (Sat,Sun) | 2019/11/15 金 | Accepting |
| Business Succession and Innovation (Lesson with Aichi Shinkin Bank)_Nagoya | Prof. Yasuhiro Ochiai | 2019/12/21,22 (Sat,Sun) | 2019/11/22 金 | Accepting |
| Sales Negotiation_Tokyo | Prof. Keiichi Simada | 2020/1/11-12 (Sat,Sun) | 2019/12/13 金 | Accepting |
| Digital Marketing_Osaka | Prof.Takashi Yamaoka | 2020/1/11-12 (Sat,Sun) | 2019/12/13 金 | Accepting |
| Advanced Management Program | | 2020/1/18,19, 2/1,2,15,16 (Sat,Sun) | 2019/12/20 金 | Accepting |
| Design Thinking & Strategic Management_Nagoya | Prof. Yuriko Sawatani | 2020/1/18-19 (Sat,Sun) | 2019/12/20 金 | Accepting |
| Geopolitical risk and business strategy | Associate Prof. Masaki Mizobuchi | 2020/1/25-26 (Sat,Sun) | 2019/12/24 火 | Accepting |
| Design Thinking & Strategic Management_Osaka | Yuriko Sawatani | 2020/1/25-26 (Sat,Sun) | 2019/12/24 火 | Accepting |
| Business manners_Nagoya | Visiting Lecturer. Katsumi Nakane | 2020/2/1-2 (Sat,Sun) | 2020/12/24 火 | Accepting |
| Management Analysis Regarding to Healthcare | Prof. Masaoki tamura | 2020/2/1-2 (Sat,Sun) | 2020/12/24 火 | Accepting |
| Entrepreneurship in Healthcare_Osaka | Associate Prof. Yuko Haga | 2020/2/8-9 (Sat,Sun) | 2020/1/10 金 | Accepting |
| Corporate Ethics and Corporate Governance Regarding to Healthcare_Tokyo | Prof. Tomofumi Anegawa | 2020/2/15,16 (Sat,Sun) | 2020/1/17 金 | Accepting |
| Online PreMBA | Prof. Shinichi Takeuchi | 2019/09/18-2020/01/23(水 or 木 or 金) (Wed) | 2019/07/31 | |
| Business Presentation_Nagoya | Prof. Ito Takehiko | 2019/4/13-14 (Sat,Sun) | 2019/3/22 金 | |
| Financial Essence_Tokyo | Prof. Seiwa Tanaka | 2019/4/13-14 (Sat,Sun) | 2019/3/22 金 | |
| MBA finance_Osaka | Prof.Kazuhiro Takino | 2019/4/13-14 (Sat,Sun) | 2019/3/22 金 | |
| Finnancial Essence_Nagoya | Prof. Seiwa Tanaka | 2019/4/20-21 (Sat,Sun) | 2019/3/29 金 | |
| Business Presentation_Osaka | Prof.Takehiko Ito | 2019/4/27-28 (Sat,Sun) | 2019/4/5 金 | |
| MBA Corporate Ethics | Associate Prof. Masayuki Yamatsuta | 2019/4/27-28 (Sat,Sun) | 2019/4/5 金 | |
| Marketing Essence_Tokyo | Prof. Yuji Ono | 2019/4/27-28 (Sat,Sun) | 2019/4/5 金 | |
| Marketing Essence_Nagoya | Prof. Yuji Ono | 2019/5/11-12 (Sat,Sun) | 2019/4/19 金 | |
| Leadership Essence_Tokyo | Visiting Lecturer.Atsushi Yamamoto | 2019/5/11-12 (Sat,Sun) | 2019/4/19 金 | |
| Critical Thinking(Spring)_Osaka | Prof.Mitsuyori Miyake | 2019/5/11-12 (Sat,Sun) | 2019/4/19 金 | |
| Strategic Negotiation_Nagoya | Prof. Osamu Ueda | 2019/5/18-19 (Sat,Sun) | 2019/4/26 金 | |
| Business Presentation_Tokyo | Prof.Takehiko Ito | 2019/5/18-19 (Sat,Sun) | 2019/4/26 金 | |
| Marketing Essence_Osaka | Prof. Yuji Ono | 2019/5/18-19 (Sat,Sun) | 2019/4/26 金 | |
| Critical Thinking_Nagoya | Prof.Mitsuyori Miyake | 2019/5/25-26 (Sat,Sun) | 2019/4/26 金 | |
| Digital Transform Program | Prof. Yasutomi Kitahara | 2019/6/1-2019/7/20(土曜日開講) (Sat) | 2019/4/26 金 | |
| Management Essence_Tokyo | Prof. Yukihiro Makita | 2019/6/1-2 (Sat,Sun) | 2019/5/10 金 | |
| Creative Thinking_Nagoya | Sawatani Yuriko | 2019/6/1-2 (Sat,Sun) | 2019/5/10 金 | |
| Management Analysis Regarding to Healthcare | Prof. Masaoki tamura | 2019/6/8-9 (Sat,Sun) | 2019/5/17 金 | |
| Critical Thinking_Toyo | Prof.Mitsuyori Miyake | 2019/6/15-16 (Sat,Sun) | 2019/5/24 金 | |
| Management Essence_Nagoya | Prof. Yukihiro Makita | 2019/6/22-23 (Sat,Sun) | 2019/5/31 金 | |
| Strategic Negotiation_Tokyo | Prof. Osamu Ueda | 2019/6/29-30 (Sat,Sun) | 2019/6/7 金 | |
| Leadership Essence_Nagoya | Visiting Lecturer.Atsushi Yamamoto | 2019/6/29-30 (Sat,Sun) | 2019/6/7 金 | |
| Accounting Essennce _Osaka | Prof.Masao Tsuji | 2019/6/29-30 (Sat,Sun) | 2019/6/7 金 | |
| Leadership Essence_Osaka | Visiting Lecturer Atsushi Yamamoto | 2019/7/6-7 (Sat,Sun) | 2019/6/7 金 | |
| Change and the management of the business environment | Prof.Takemasa sakine | 2019/7/6-7 (Sat,Sun) | 2019/6/7 金 | |
| Practice of Case Method(Summer Semester)_Nagoya | Prof. Shinichi Takeuchi | 2019/7/6-7 (Sat,Sun) | 2019/6/7 金 | |
| Basic Grobal Management_Osaka | Prof.Nana Otsuki | 2019/7/13-14 (Sat,Sun) | 2019/6/14 金 | |
| Course | Faculty | Class Schedule | Deadline | Status |
| --- | --- | --- | --- | --- |
| Driving Digital Marketing | Prof. Ted Katagi | 2019/8/3-4 (Sat,Sun) | 2019/7/5Fri | Accepting |
| Competing in Emerging Markets | Denscombe, Nigel K. | 2019/8/31,9/1 (Sat,Sun) | 2019/8/2 Fri | Accepting |
| Entrepreneural Manager | Prof.Hiroshi Ito | 2019/9/7,8 (Sat,Sun) | 2019/8/8 Thu | Accepting |
| Organizational Psychology | Associate Prof. Park Joonha | 2019/10/5-6 (Sat,Sun) | 2019/9/6 Fri | Accepting |
| Leading Multicultural Teams | Associate Prof. Lin, Edica | 2019/11/9-10 (Sat,Sun) | 2019/10/11 Fri | Accepting |
| Managing Knowledge in Global Organizatons | Prof. LAW | 2020/2/1-2 (Sat,Sun) | 2020/12/24 Tue | Accepting |
| Leading Growing Ventures | Katagi, Toshihiko | 2020/2/15-16 (Sat,Sun) | 2020/1/17 Fri | Accepting |
| Competitive Tactics and Policy | Cong Pan | 2020/2/22-23 (Sat,Sun) | 2020/1/24 Fri | Accepting |
| Managing Multinational Business | Prof. Hakeem, Muhammad Mohshin | 2019/6/8-9 (Sat,Sun) | 2019/5/17 Fri | |