Name: Albishi Mohammed
Nationality: Saudi Arabia
Dates Studied at NUCB: 2011 - 2015
---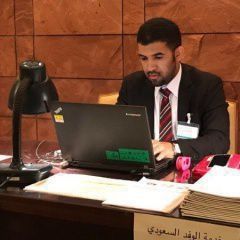 ---
Why did you choose NUCB?
---
I chose NUCB because of the university motto "Frontier Spirit" in never giving up.
After seeing the huge beautiful green campus I knew that was where I wanted to study. I read that the school has a warm welcoming environment for international students with lots of activities and organizations.
Did you take advantage of our study abroad / internships?
I was lucky enough to take part in the internship program at Tokio Marine Holdings. This was a great insight for me to understand Japanese working styles and a great experience for my future.
Would you say that NUCB has an internationally friendly campus?
Without a doubt. During my time at the university, I built up many good relationships with students, staff, and faculty. Everyone is very friendly and goes out of their way to ensure you feel comfortable on campus.
What did you do after graduating NUCB?
After graduating from NUCB, I returned home to Saudi Arabia and started working for Marubeni Corporation. One of the biggest trading companies in Japan.
How did NUCB help your career? In particular, what skills did you develop?
NUCB developed my skills through lots of opportunities in building my confidence through their Active Learning methods. The experience in working with many different nationalities was also valuable to improve my communication and teamwork skills to identify problems and solve them using tried and tested management techniques.
What advice would you give to any international students thinking about studying at NUCB?
Studying at NUCB is a once in a lifetime opportunity and one you will not regret. Studying in Japan was one of the most difficult things I had ever done but also the most rewarding.
The staff go above and beyond to ensure that your time at NUCB is memorable.
Academically you will be able to build your skills for a working environment that will stand you in good stead for your future.