---
Our first open campus of the year was held on the 3rd of June, a beautiful day of early summer highlighting the abundance of nature of our Nisshin campus.

To welcome prospective students and families, our Japanese and exchange students got together with the administrative staff and professors to create altogether a unique experience of NUCB.

The day was split into various activities and lectures in order to give a complete experience of our school.
---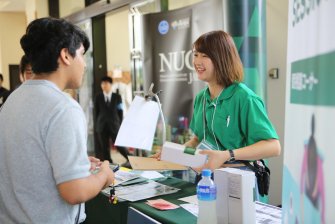 ---
Open Campus Overview
---
The students learnt about all the features and facilities offered by NUCB, such as the dormitories, the available facilities on campus, etc. The introduction of study programs were divided into 3 categories: business studies, international studies, and also management studies taught in our Fushimi campus.
---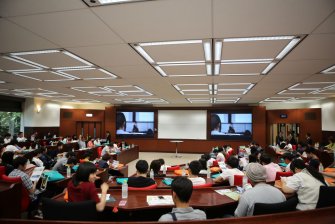 ---
Experience Active Learning
In order to have a truly immersive learning experience, classes are taught in the active learning style at NUCB. For prospective students to understand what active learning is, the 3 sample classes below were held:
- Business studies with professor Masamu Tamura: Economic statistics quiz
- International studies with professor Stewart Warrington: Learning the Language for Learning English
- Management studies with professor Sekine Ryūgami: Corporate management and law: don't do that!
Undergraduate studies
Professor Tamura explained all the characteristics of the 3 departments (economics, business, and management) while the educational affairs staff introduced the international studies with presentations by our exchange students. Current students also demonstrated their experience gained in management studies at the Fushimi campus.
Individual consultation – staff and students have all the answers to your questions
An individual consultation section was at the disposal of all the prospective students and families so that we could answer individually to questions or doubts regarding the entrance exams, the studies at NUCB, student life, study abroad and overseas experience, and career support.
---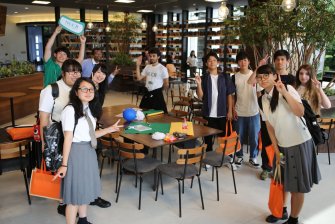 ---
Lunch – SORA Café and International Village
Lunch was offered at the SORA Café, where prospective students ate together with our students to enjoy further discussions about student life.
After lunch, the International Village was set up where students experienced cross-cultural communication and enjoyed talking and games with the exchange students.
---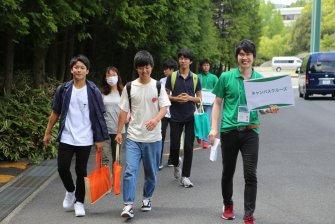 ---
Campus cruise & Club introduction
Our students guided everyone around our Nisshin / Nagakute campus and our dormitories to show all the facilities and clubs open on offer.
---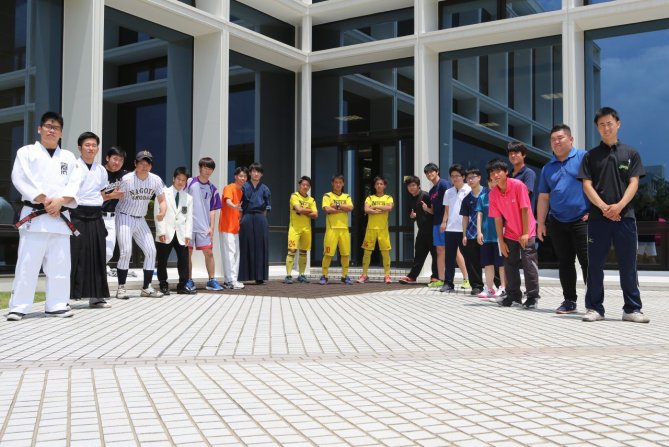 ---
If you couldn't participate this time, you're welcome to join us next time on the following dates: July 21st and 22nd, August 26th and September 30th; or feel free to contact us should you have any queries: intl_adm@nucba.ac.jp.
---