The final guidance session of the International Volunteer Project was held on the 10th of July; the 73 participants will be flying to countries around the world at the beginning of this August.
As most of the students are in their first year, it is their first time to be going abroad alone in order to take part in a volunteer project. During this period, they will contribute to the local community while working and living with people from all over the world and after the volunteer project, the students will spend a week traveling around before returning to Japan.

Volunteering abroad, the students will cooperate with other volunteers in order to bring a difference and a positive impact to the local communities and environment. They will grow by gaining new perspectives and also improve their cross-cultural skills.
---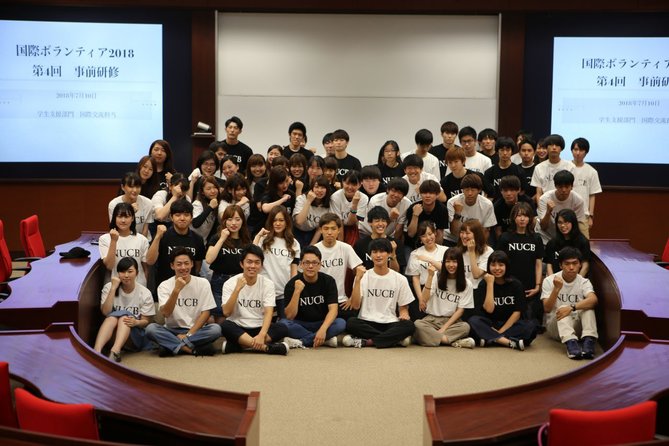 What is the International Volunteer Project?
There are various types of volunteering projects, such as repairing old houses to rejuvenate communities, taking part in festivals organization to bring people together, working in a farm, maintenance of sports fields because sports have the power to unite people, just to name a few. It's a powerful experience for students as they can reflect on their actions in the world.

Among the destinations, some of the most popular ones are European countries such as France and Germany as well as Asian and North American countries. The students will learn the power of harmony and unity in the local environments.
Benefits of the International Volunteer Project
・Contribute to local communities' development and reflect on your actions;
・Work with people of your age from all over the world and gain cross-cultural experience by staying together;
・Acting independently, you will gain self-confidence and become proactive.

From Nagoya to the world!
For the International Volunteer Project of 2018, 73 students are participating in various projects across 11 countries around the world. Everyone is looking forward to this fulfilling experience and to embark on their adventures.
| | | | | |
| --- | --- | --- | --- | --- |
| Destination | | Number of participants | | |
| Germany | | 26 | | |
| France | | 21 | | |
| Italy | | 7 | | |
| Spain | | 7 | | |
| Taiwan | | 5 | | |
| Portugal | | 2 | | |
| USA | | 1 | | |
| Canada | | 1 | | |
| Denmark | | 1 | | |
| Finland | | 1 | | |
| Vietnam | | 1 | | |
| Total | | 73 | | |
---