Design Thinking is one of the Year 1 courses taught by Prof. Goi. in the Global BBA program. The students will learn and go through all Design Thinking phases: Empathize with the users, Define their needs and problems, Ideate by challenging assumptions, Prototype the creative solutions, and Test the solutions. In the end, students will be able to adopt this particular methodology and apply it to other specialized subjects such as marketing and finance, as well as in their personal and professional life.
Design thinking is a mindset that many successful innovators have practiced in the field of art, literature, engineering, or business, etc. In today's class, students discussed one of the companies which adopted design thinking successfully - Apple Inc. According to the 2 students who presented (chosen weekly by the professor), the summary of Apple and the learning points for this case were: (1) participatory design that includes users in design process, (2) minimalist design that creates elegance and avoid complexity, (3) emotion connection that adopts the psychology method, and (4) the commitment that Apple can deliver to their customers.
---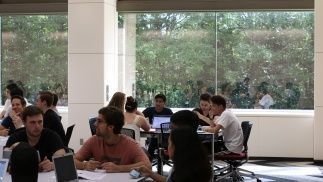 ---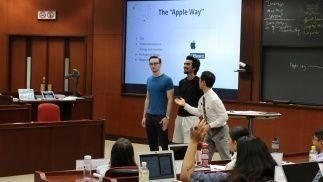 As mundane and usual the following discussion has gotten in many fields, the instructor put forth the class discussion into a 'Using Apple vs Not Using Apple', pitting students against each other and letting them express their opinions.

Not only case discussions and lectures but a special project is also incorporated into this course. In this semester, Prof. Goi invited members of a local community from Ena City in order to create The Noren Project. Noren is a traditional curtain that usually hung in door-ways and made using a multitude of colors, patterns, and fabrics. Ena City, a small town located in Gifu prefecture, is now facing an outflow of their labor force. The project is designed to promote Ena City to the tourists and to raise awareness about it. In Week 4, students will make their own norens by groups and participate in a small contest, in which their works will be judged by the local community, 2 tourists, and 1 coordinator from NUCB, evaluating the students from different perspectives.
---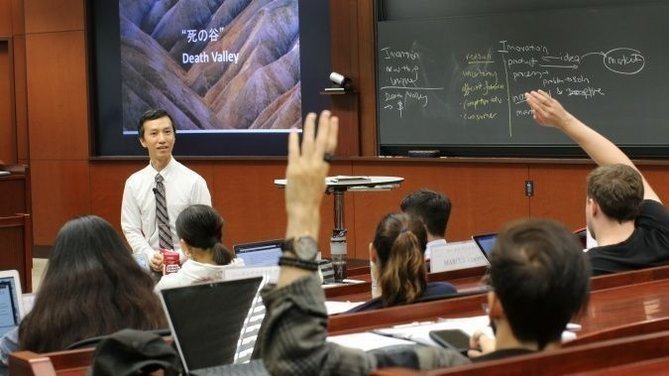 ---
As a future business leader, it is always important to develop new ways of thinking that do not abide by the dominant or more common problem-solving methods. Since we, humans, regardless of being a businessperson or a consumer, have different drivers of behaviors which cause uncertainty, a systematic way to deliver a holistic and innovative solution to tackle complicated problems seem as inevitably significant as other scientific approaches.

At NUCB, we always strive to innovate our education and Design Thinking has become an important part of the curriculum at both graduate and undergraduate level.
---