Spend 75 days in Europe to broaden your horizons
This program began at NUCB Undergraduate School in 2005, inspired by the gap year taken by many students right after high school, particularly in the UK but also in other countries. Participants in their Year 1 will go abroad soon after their enrollment to nurture their individual growth with a global perspective through cross-cultural experiences. Conducting research throughout this program, students will be able to reflect on themselves to become conscious and to build a future path that gives purpose and meaning to their student life.
---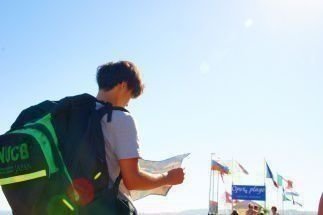 ---
Travel in Europe based on the research topic
---
During the preparation period from April to May, the participants draft a gap year plan, polish English skills if necessary, and prepare themselves for cultural differences, prior to the start of the program in early June. The participants will have an on-site training in London/Paris to acclimate themselves to the new environment, and then spend approximately 75 days traveling in Europe for research purposes.
---
---
| | |
| --- | --- |
| Content | Field trips, surveys, interview, company visits, volunteering, and etc., depending on students' research topics |
| Destination | Up to 4 countries in Europe |
| Period and length | Apr. - Sep. (8-week preparation before the travel, 10 to 11 weeks of travel, and 5 weeks for post-study) |
| Application period | Year 1 students will be accepted as soon as they decide to enroll in the school (until March before enrollment) |
| Credits | Up to 10 credits based on the final report |
---
Destination examples
London (UK)
Liverpool (UK)
Paris (France)
Colmar (France)
Frankfurt (Germany)
Berlin (Germany)
Munich (Germany)
Milan (Italy)
Venice (Italy)
Rome (Italy)
---
---
Credits
---
Students can acquire up to 10 credits according grades received for the preliminary training, international training, post-program training, research paper, and the final report.
Crisis management
Administrative staff will be present in Europe to respond immediately to emergencies, with on-site consultation, status check (face-to-face, email exchange, phone calls) and they will also serve as the emergency point of contact for the school, embassies and parents.
---
Amount and criteria
The school offers a scholarship of approx. 400,000 JPY per person, including: 1. Airfare – round trip (economy class arranged by the university) 2. Hotel accommodation for 4 nights during the joint international training period in Paris/London 3. Shuttle bus fare (from and to the airport, upon arrival in Paris/London and upon departure from Paris/London) 4. Eurorail Global Pass 5. Hostel accommodation for 20 nights
Requirements
Those who have passed the interviews successfully.
Number of scholarship recipients
---
| 2012 | 2013 | 2014 | 2015 | 2017 | 2018 | 2019 |
| --- | --- | --- | --- | --- | --- | --- |
| 10 | 13 | 12 | 11 | 12 | 11 | 11 |
---