Global BBA (GBBA) Admission
NUCB Undergraduate school welcomes almost 200 international students each year from more than 35 different nationalities. Admissions are blind to nationality and Japanese nationals are welcome to apply.
Global Bachelor of Business Administration
Degree: Bachelor of Business Administration
Language: English (Japanese Language: Not required)
Campus: Nisshin/Nagakute
Enrolment: Spring (April) & Autumn (September)
Eligible Nationalities: All
Transfer: Second Year・Third Year Possible
Eligibility
The following qualifications represent the minimum criteria for admission. Meeting the qualifications does not guarantee admission. Applicants must satisfy one of the conditions below:
Completed, or are expected to complete, 12 years or more of formal education
Those who hold, or are expected to pass the university admission qualification examination (International Baccalaureate, A-levels, Abitur, etc.)
Others who have at least the equivalent qualifications as points 1 or 2 above (please contact the admissions team in advance)
※Those that have completed a 12-year (or more) school curriculum in less than 12 years because of appropriate reasons (e.g., skipping grades), will be regarded as having met the above requirements. In order to prove eligibility, the applicant is required to submit an official document explaining the reason(s) for the early completion.
※Those who have passed an examination demonstrating academic ability equivalent to 12 years of formal education, such as the GED (General Educational Development) test or another high school equivalency exam are eligible to apply.
English Proficiency
An official proficiency score is required of all non-native speakers unless the language of instruction at high school for all three years was 100% in English:
TOEFL iBT®・TOEFL iBT® Home Edition: 61
IELTS: 5.5 (Overall Band)
TOEIC®: 700
PTE 50
Eiken: Grade pre-1
SAT evidence-based reading and writing 540
IB English: 4 and higher
AP English Language ・Literature: 4 or higher
ACT English: 21 and above
Duolingo: 90 or higher
※Tests must be taken within 2 years of the date of application.
Please contact admissions if you have evidence of other English proficiency scores such as A-level, TEPS, HKDSE, MUET, GEPT etc. Students may also use Initial View or Vericant as an additional way to showcase English proficiency.
TOEFL scores can be sent via ETS. The institution code of NUCB is B407. If you provide your IELTS TRF number, you do not need to submit an original test version.
Interviews & Exams
An interview and written exam are required of all applicants. Domestic applicants (residents of Japan) must come to one of NUCB's campuses. For residents outside of Japan, we will use online conference software.
Standardized Testing
NUCB conducts a holistic overview of a candidate in respect to admissions. Therefore, there are no minimum requirements or specific courses to be taken. Those that have taken university admissions qualifications such as IB, SAT, AP etc, will be used alongside other exam results and credentials, to evaluate applicants in our university admissions process.
SAT Code: 7963
AP / ACT Code: 4627
IB Code: 038743
Application Deadlines
Interview dates are scheduled within 3 weeks after all application documents have been received.
Admission for 2021
---
| Stage | Spring | Autumn |
| --- | --- | --- |
| 1 | 2020 Jun 8 ~ Jun 15 | 2020 Oct 12 ~ Oct 19 |
| 2 | 2020 Jul 13 ~ Jul 20 | 2020 Nov 09 ~ Nov 16 |
| 3 | 2020 Sep 7 ~ Sep 18 | 2020 Nov 30 ~ Dec 07 |
| 4 | 2020 Oct 12 ~ Oct 19 | 2021 Jan 11 ~ Jan 18 |
| 5 | 2020 Nov 09 ~ Nov 16 | 2021 Feb 1 ~ Feb 8 |
| 6 | 2020 Nov 30 ~ Dec 07 | 2021 Mar 1 ~ Mar 8 |
| 7 | 2021 Jan 11 ~ Feb 08 * | 2021 Apr 05 ~ Apr 12 |
| 8 | --- | 2021 May 10 ~ Jun 07 |
| 9 | --- | 2021 Jun 07 ~ Jul 12 * |
---
Transfer
NUCB accepts transfers from students residing in Japan and outside of Japan to transfer into the second or third year of a four-year program.
Students at NUCB must complete a total of 124 credits (minimum 28 Liberal Arts & minimum 72 Specialized Subjects) to graduate. Accepted students will be notified about the allowed number of transfer credits in the notification of acceptance and which year they transfer to. The maximum number of credits students can transfer is up to 62.
For more information, please refer to our FAQ
---
Plagiarism
NUCB has a zero-tolerance policy with regards to plagiarism. Any essays found to be plagiarized will result in an automatic rejection of the application.
---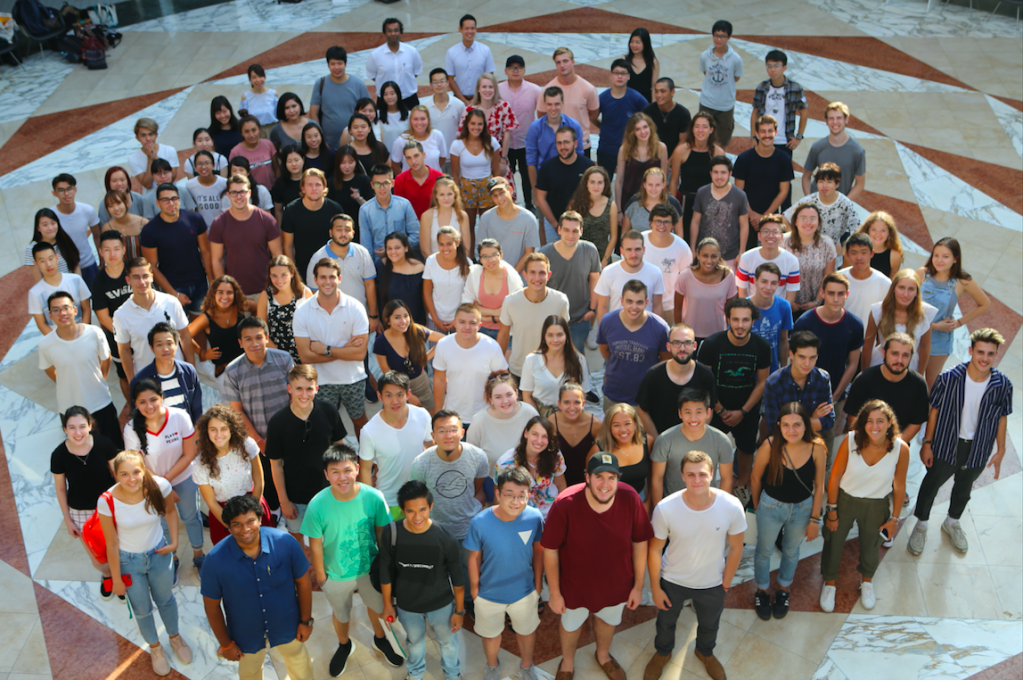 Written Exam 
All applicants must complete a written exam to be considered for entrance to the Global BBA Program.

Whilst we cannot disclose the exact theme of the exam, it will be an open question related to business or social issues to get your thoughts on the subject and test your writing ability under pressure. You will be judged on the contents, structure, clarity and logical thinking.

You will have 30 minutes to answer the question and we will use Google Documents and Skype simultaneously for the exam. On the day of the exam, we will send you a link to open where the exam question will be posted. If you have difficulties using Google, we have alternative methods.
Interview 
Those domestically can choose to have their interview in Osaka or Tokyo via video Conference technology or come to the Nisshin / Nagakute campus for in-person interviews. Overseas applicants can use Skype, Zoom or Google Meets.
As NUCB uses the case methodology, we want to ensure that you have the ability to study in this environment. The interview is designed to assess your academic potential.

Professors are looking for your self-motivation and enthusiasm for choosing the GBBA program, as well as the opportunity to live and study in Japan, in particular at NUCB Undergraduate School and in Nisshin.
We understand that you may not have had much experience in interviews and therefore, you may be nervous. The professors are not trying to catch you out and will do their best to put you at ease. Professors will probably ask you a few simple questions to begin with, such as tell us about yourself.

They will then move on to questions about the subjects you are currently studying. Questions will be asked to ensure that you have done your homework on the curriculum of the GBBA program and why in particular you have chosen our school. Other questions will include the chance for you to showcase that you have the ability to excel in an active learning environment. Finally, the professors would like to know how we can help you to meet your future career goals. Don't worry, not everyone has a career plan mapped out, but there should be a strong reason for choosing a business degree.

The professors will allow time at the end of the interview for questions, but don't feel pressured to ask anything. This does not form any part of your assessment.
Admission Policy
Based on our founding philosophy of 'Frontier Spirit', the Diploma Policy and the Curriculum Policy, we accept the following persons as applicants:
Those who have completed a high school curriculum and acquired the logical thinking and communication skills required for higher education
Those who have acquired the thinking, judgment, and expressiveness to solve problems for which no single answer can be determined
Those who are able to respect others and accept various points of view and values, with an attitude to take initiative to learn in diverse environments and have a broad perspective to play an active role in the international community.
(At our university, in order to accept the above-mentioned persons, in addition to academic achievements, we have adopted a holistic approach to evaluating applications, which includes recommendation letters, essays, interviews, etc.)
---
4-4 Sagamine, Komenoki-cho, Nisshin, Aichi, 470-0193, Japan
NUCB Undergraduate School Admissions Office, International Division
---