Nagoya University of Commerce & Business, the first generation private university in Japan, was founded in 1953 by Yuichi Kurimoto, who was the first Japanese person to graduate from the University of Alberta in 1930 and the founder of the Kurimoto Educational Institution (KEI). Over the last 80 years, the university has become known worldwide as a premier educational institution.

NUCB Undergraduate School was the first undergraduate school in Japan, and part of only 5% of business schools worldwide to hold the prestigious AACSB accreditation. The school is also accredited by JUAA and approved by the Ministry of Education (MEXT) to grant Bachelor degrees.

The school is located in Greater Nagoya, Japan's third most populous city and home to the country's greatest concentration of automobile, fine ceramics, aerospace, and other high-tech industries. Known as the transportation hub of the country, making travel to other destinations fast and easy. Furthermore, the Chubu Centrair International Airport is easily accessible from the city center and is functioning as a convenient transit point for domestic flights and a key aerial gateway to overseas.

Our picturesque Nisshin/Nagakute campus is home to over 3,000 students with approximately 20% of international students from over 50 nationalities, offering a diverse community full of global talent. The school has exchange agreements with over 100 world-class universities across more than 50 countries with a growing number of Double Degree partners, and it is the 68th member of the PIM network (Partnership in International Management), which is a consortium of leading international business schools founded in 1973.

Our mission, guided by a 'Frontier Spirit', is to develop leaders and entrepreneurs with a global perspective, advanced management skills, and high ethical standards that will equip them to succeed in bridging the gap between New Asia and the rest of the world.
---
---
Safe & Comfortable Dormitories

NUCB has over 600 rooms available for students, guaranteed for four-years of study. Rooms are furnished and single occupancy with cooking facilities and a shower located in the room.

Clubs & Circles

There are a number of student clubs and circles available that are a great way to improve your Japanese language and integrate with the culture here.
---
NUCB Scholarships

We have numerous scholarships available both pre-application and post-application.

Global Campus

We have over 200 international students from more than 50 countries on campus.
---
The Most Dynamic Region of Japan
---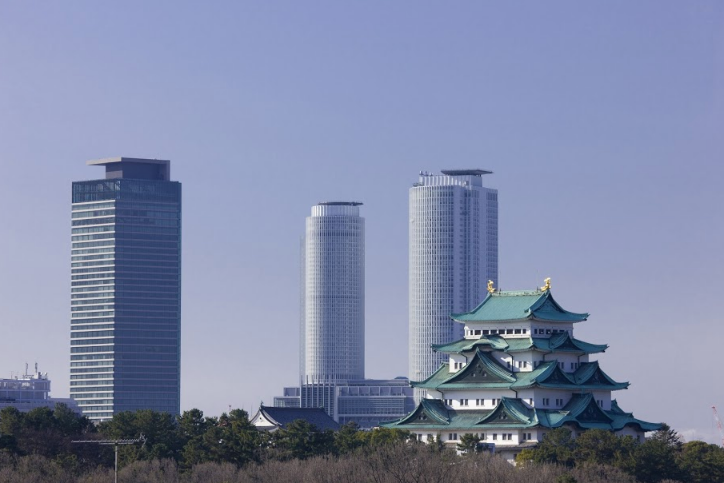 Greater Nagoya is a center of manufacturing craftsmanship, with strong connections to the automotive, aircraft, and industrial robot industries. A distinctive food culture exists full of local delicacies such as kishimen (noodles), tebasaki (chicken wings), misomikomi udon (miso boiled udon), and much more. Nagoya's population density is only one-third of that of Tokyo or Osaka.

The city has a number of lush parks that are great for enjoying the weather, jogging, or taking part in the many seasonal events that are held in the city. It's also a great place for enjoying professional sporting events such as baseball and soccer as well as the annual Nagoya Tournament of the Japan Sumo Association.

Located in central Japan, Greater Nagoya functions as the transportation hub of the country making travel to other destinations fast and easy. There are also many well-known tourist spots, such as Hida-Takayama in Gifu or Ise and Toba in Mie, which are easily reached by train from Nagoya. Nagoya also has a well-developed public transportation network of subway and bus lines that make commuting or shopping very easy


---
---