An Integral Part of the NUCB Experience
International Dormitories
---
NUCB offers dormitories where both Japanese and international students reside - fostering an international community both on and off-campus. At NUCB, we consider living together with students from other cultural backgrounds to be a critical part of the international experience - Students with diverse social, linguistic, cultural and religious backgrounds, personalities and ways of thinking live in the dormitories.

Our objective is not only to provide an optimal learning environment but to give an experience of a lifetime to build lifelong friendships and interact with people from diverse cultures on a daily basis making your time here unforgettable. Students can move into dormitories when they enroll in April or September and stay for all 4-years, including winter and summer breaks. Our international affairs department provides a check-in for all students to acclimatize to their new environment.

The majority of our students choose the single room option but there are opportunities to share. Please contact the admissions department if you have a preference.
---
---
Resident Assistant
---
Capable of speaking both Japanese and English, the RA's will provide support for the international students in the dormitories, holding networking and cultural activities and events, involving the students in the NUCB Community. This will provide the international students with opportunities to deepen their understanding of Japanese language and culture while fostering deeper and broader connections with their peers.

---
---
---
From September 2022, NUCB International College - NIC - an all-English boarding IB World School will begin its first intake of Year 10 students. At the main Nisshin campus, a brand new boarding site will open (International House) where Global BBA students will also be eligible to stay. Those who have IBDP or boarding experience or those with exceptional academic records may be considered to be house mentors.
---
---
International Dormitories
---
---
---
Compared to other big cities such as Tokyo and Osaka, living expenses in Greater Nagoya are relatively inexpensive and usually 20-30% cheaper.

The rent for a single room apartment averages around 30,000 JPY and personal expenses are about 40,000 JPY to 60,000 JPY per month. In total, the living expense per month would be around 80,000 JPY or above, depending on the student's lifestyle and spending habits.
---
| Item | Estimated Monthly Cost (JPY) |
| --- | --- |
| Accomodation | 20,000 ~ 40,000 |
| Utilities | 10,000 ~ 12,000 |
| Food | 20,000 ~ 30,000 |
| Telecommunications | 3,000 ~ 5,000 |
| Insurance & Medical | 2,000 ~ 3,000 |
| Hobbies & Entertainment | 5,000 ~ 8,000 |
| Commuting | 3,000 ~ 4,000 |
| TOTAL | 60,000 ~ 100,000 |
*Living expenses vary depending on students' lifestyle and spending patterns. The amount suggested above is only for reference.
Many students choose to either walk or cycle to school, which brings the commuting costs down.
---
---
---
---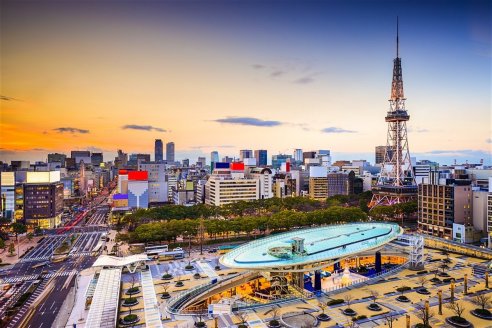 Nisshin/Nagakute campus is located approximately 40 minutes from downtown Nagoya, providing a calm and quiet environment that is very suitable for students to pursue their studies.

Located nearby the campus you can find shopping malls, the IKEA furniture store, restaurants and coming in 2022 will be the Ghibli Studios Theme Park.
---
---