An Integral Part of the NUCB Experience
International Dormitories
---
NUCB offers dormitories where both Japanese and international students reside - fostering an international community both on and off-campus. At NUCB, we consider living together with students from other cultural backgrounds to be a critical part of the international experience - Students with diverse social, linguistic, cultural and religious backgrounds, personalities and ways of thinking live in the dormitories.

Our objective is not only to provide an optimal learning environment but to give an experience of a lifetime to build lifelong friendships and interact with people from diverse cultures on a daily basis making your time here unforgettable. Students can move into dormitories when they enroll in April or September and stay for all 4-years, including winter and summer breaks. Our international affairs department provides a check-in for all students to acclimatize to their new environment.

The majority of our students choose the single room option but there are opportunities to share. Please contact the admissions department if you have a preference.
---
---
Resident Assistant
---
Capable of speaking both Japanese and English, the RA's will provide support for the international students in the dormitories, holding networking and cultural activities and events, involving the students in the NUCB Community. This will provide the international students with opportunities to deepen their understanding of Japanese language and culture while fostering deeper and broader connections with their peers.

---
---
---
From September 2022, NUCB International College - NIC - welcomed its first class of Year 10 students as an all-English boarding IB World School. The Nisshin campus has a new all-boarding international house, where students with IBDP or boarding experience and outstanding academic performance may be considered as house mentors.
---
---
International Dormitories
---
---
---
Living in Greater Nagoya provides a unique and advantageous experience compared to bigger cities. With a lower cost of living (20~30% cheaper), residents can enjoy a comfortable lifestyle without straining their budget. Transportation is convenient and well-connected, allowing easy access to the region and other parts of Japan.

The region strikes a balance between urban amenities and a more relaxed lifestyle. While offering all the conveniences of a city, Greater Nagoya also provides access to natural landscapes, including parks, mountains, and hot springs. This blend of urban and natural environments contributes to a high quality of life and opportunities for outdoor activities.

Greater Nagoya is a major industrial and manufacturing hub, offering diverse employment opportunities across various sectors. The presence of renowned companies and research institutions enhances career prospects and promotes professional growth. Additionally, the region's cultural heritage and traditional festivals provide residents with an enriching and authentic cultural experience.

Community and safety are notable aspects of living in Greater Nagoya. The region fosters a sense of community and friendliness, making it an inviting place to stay. With low crime rates and a strong sense of security, residents can enjoy peace of mind.
---
| Item | Estimated Monthly Cost (JPY) |
| --- | --- |
| Rent | 20,000 ~ 40,000 |
| Utilities | 10,000 ~ 12,000 |
| Food | 20,000 ~ 30,000 |
| Telecommunications | 3,000 ~ 5,000 |
| Insurance & Medical | 2,000 ~ 3,000 |
| Hobbies & Entertainment | 5,000 ~ 8,000 |
| Commuting | 3,000 ~ 4,000 |
| TOTAL | 60,000 ~ 100,000 |
*Living expenses vary depending on students' lifestyle and spending patterns. The amount suggested above is only for reference.
Many students choose to either walk or cycle to school, which brings the commuting costs down.
---
---
---
---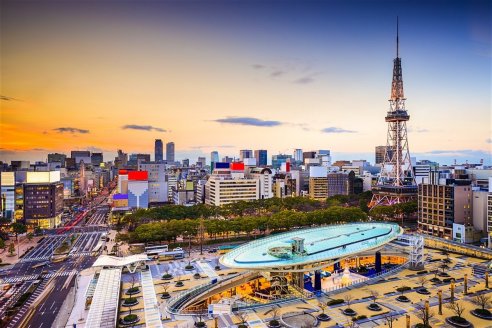 Nisshin/Nagakute campus is located approximately 40 minutes from downtown Nagoya, providing a calm and quiet environment that is very suitable for students to pursue their studies.

In the vicinity of the Nisshin Campus of NUCB, you can find attractions such as Meijo Park, Nagoya Dome, Higashiyama Zoo and Botanical Gardens, Atsuta Shrine, IKEA for furniture shopping, the Ghibli-themed park, and the Prime Tree Mall, offering a diverse range of recreational, cultural, shopping, and entertainment options for everyone to enjoy.
---
---