NISSHIN NAGAKUTE CAMPUS

---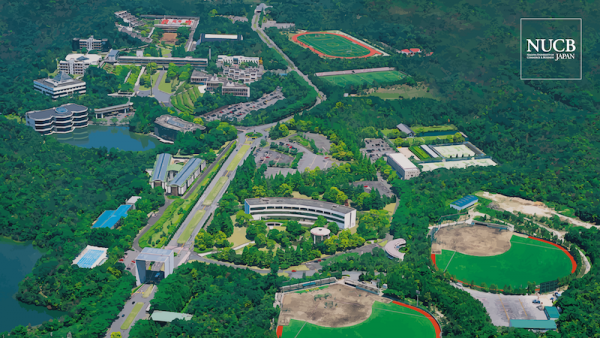 ---
The Nisshin Campus opened in 1968, fifteen years after the formal establishment of NUCB.
Learning Facilities
Active Learning Center
---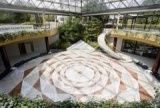 Built-in 1988, the Active Learning Building offers advanced technology throughout. With all students using notebook computers. The IT center is also located here to help students with any technical problems they may face whilst a student of NUCB. The classroom has a "Quarter-Circle" style which is popular among western business schools. A high lumen rear projector and 140-inch screen are installed at the front of the room. Also, a high-performance video conferencing system is installed for remote lectures.
CGC Building
---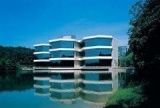 The CGC Building is equipped with the latest multimedia and IT equipment and is used for lectures as well as for student dissertation announcements, etc. The CGC Building has a student lounge next to the administration office where students have free access. Overlooking the lake this is the perfect place for students to relax.
---
Language Center
---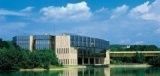 The Language Center is recognizable by its use of mirror glass and is used as a base for foreign language education. The entrance hall is filled with flags of countries represented by study and faculty body at NUCB. In 2010 solar panels were installed to provide an energy-friendly environment.
Central Information Center
---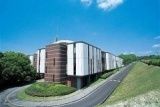 The Center is equipped with the latest multimedia research instruments. The center holds over 210,000 books and valuable references. Inside is a self-study space designed to effectively improve foreign language skills with faculty giving individual consultations on foreign language learning, studying abroad, etc.
Amenities
---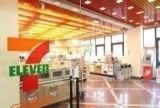 On campus, NUCB provides a 7-11 convenience store offering a wide variety food, drinks, cosmetics and goods as well as ATM facilities, There is also a MosBurger, a fast-food restaurant chain, and space to eat lunch outside on the decked terrace.
Community Pavillion
---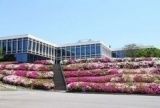 The community pavilion has a Maruzen book store and three dining options:
Sora Cafe
Hananoki Village Restaurant
Karin Restaurant
Opened in 2018, Sora Cafe offers fresh and healthy options whilst the cafe also has authentic coffee and typical cafe style drinks and sweets. Hananoki Village and Karin Restaurants offer typical Japanese style lunches and "teishoku" set meals. A typical set lunch costs less than 400 yen.
Sports Facilities
The Nisshin Nagakute campus includes full athletic facilities to support the many sports and clubs at NUCB. These include two baseball fields, seven tennis courts, a soccer pitch, an American football field, an archery range, and a gymnasium. A full list of clubs can be found here.
---
Athletics Field
---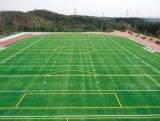 NUCB's 400m running track is paved with International Athletics Federation certified all-weather urethane. The all-weather artificial grass allows the field to be used as both a soccer field and an American football field.
---
Baseball Ground
---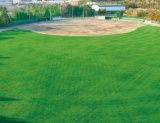 NUCB has two baseball fields that can be used for official matches. Field 1 is used for regulation-ball baseball, and Field 2 is used for rubber-ball baseball.
---
Rugby Field
---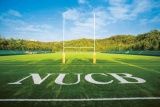 NUCB rugby field uses SRI hybrid artificial grass. In addition, LED lights are installed making practice possible in evenings.
---
Tennis Courts
---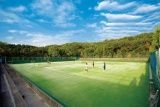 There are seven artificial grass tennis courts. To the east of the main court, there is also a clubhouse with a changing room, shower room, and toilet.
NAGOYA CAMPUS
---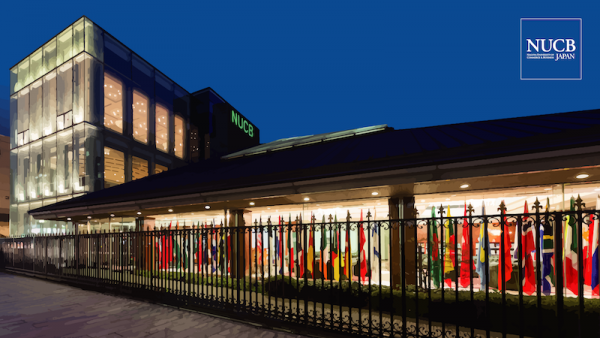 ---
The Fushimi campus opened in 2001 and serves for the BBA program, taught in Japanese using 100% Active Learning and Case Study method.