Tuition Payment
1. Successful applicants should make the necessary payments and submit the required documents by the designated deadline. Please be sure to refer to the "Admission Procedure Requirements"
2. Payment of tuition is valid from the day of the bank receipt in Japan. Please note that you will lose the entrance qualification if you do not pay the school payment or send the required documents before the deadline
3. We will not refund any payments once paid for any reason
Fees before Enrollment
Application Fee: JPY 20,000
First-year Total Fees:
Spring Enrolment 2019: JPY 1,404,000
Autumn Enrolment 2019: JPY 1,441,000
This includes a brand new MacBook Air for non-scholarship recipients as well as your textbooks and club fees. The annual tuition after the first year will be 1.10 million JPY. This may change due to external factors such as consumer price index, improvement of educational research conditions, increase or decrease of treasury subsidies.
Student Dormitory
We have dormitories available near our campus to those selected at the time of acceptance. For those that were unsuccessful in their dormitory application, there is a partnering apartment where you can contract directly with the landlord.
---
---
---
---
Affiliated Dormitory
NUCB Scholarships
We have numerous scholarships, application based, merit based, and study abroad.

Those who have achieved particularly excellent results in the entrance examination will be divided into one of three categories for a scholarship, split over two semesters

Scholarship category 1. 900,000 JPY 2. 600,000 JPY 3. 300,000 JPY

1. Scholarship applicants are limited only to those who can acquire the "College Student" status of residence from admission until graduation. The scholarship will be paid after enrollment
2. Even if you are a scholarship recipient, it is necessary to pay the full amount required at the time of the entry. Scholarships will be paid after enrollment
3. Scholarship payments are made every semester up to a period of 4-years, and there are certain requirements for continued payment. Therefore, if the scholarship recipient fails to meet the requirements below after entrance, the scholarship may be suspended
4. The school gives MacBook Air computers free of charge to students. However, there will be a fee for scholarship recipients

Merit based scholarships will be given to around 140 students twice a year, who will receive a scholarship based on their success whilst studying at NUCB.

Study abroad scholarships will be given to those with a select GPA and English ability where we can cover flights, hotels, etc, up to 700,000 JPY depending on the program.
Mailing Address/ Contact
---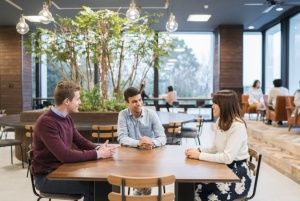 NUCB Admission Office International Division
4-4 Sagamine Komenoki-cho Nisshin, Aichi 4700193 Japan
TEL: 0561-73-3006
FAX: 0561-73-1202
Email: intl_adm@nucba.ac.jp