Associate Professor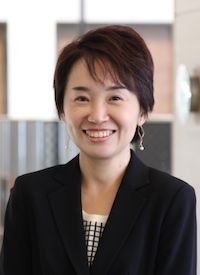 Biography
Dr. Yamamoto graduated in 2000 from Waseda University of Human Sciences with a major in Educational Technology, where she also obtained her master's degree in 2002 and doctorate degree in January 2008.

She began her career as an academic researcher at the Center for Educational Development in Rikkyo University. Then she became an Assistant Professor at the Faculty of Human Sciences at Waseda University, in a full-time lecturer at the Higher Education Development Center at Mie University and was promoted to Associate Professor at the Organization for the Development Higher Education and Regional Human Resource, later assuming her current position.

Her research interests center around Educational Curriculum Improvement, with a focus on elementary, junior high school and higher education. At the present, she is conducting an empirical research on University Organizational Management which can contribute to the improvement of teaching techniques, their works, management and the introduction of E-Learning to universities. She received the 9th (2013) University Educational Society Encouragement Award.

Research Interests
Educational technology, Educational sociology and Higher Education
Final Education
Ph.D., Waseda University
Academic Papers
Yuko Yamamoto (2023) "Changes in the Establishment and Operation of Center Organizations at a Regional National University: A Case Study of University A". The journal of management and policy in higher education (13) :21859701
Yuko Yamamoto (2021) Validation of Educative effects in Higher Education: from a comparison of graduates / employment questionnaires. Japan journal of educational technology 45 (Suppl.) :1349-8290
Yuko Yamamoto (2021) A Note on Course Numbering in Domestic and Foreign Universities. Mie University Journal of Studies on Higher Education (27) :2432-5244
Yuko Yamamoto (2019) Success Mechanisms for Overcoming Declining Enrollment at Kyoai Gakuen University : Focusing on the Initiative to Foster a Sense of Ownership. Research Bulletin of the Department of University Management and Policy Studies 9 :2185-9701
Yuko Yamamoto (2019) The Validation of a community-oriented rubric for PBL classes in Higher Education Consortium Mie university industry collaboration. Mie University Journal of Studies on Higher Education 25 :2432-5244
Yuko Yamamoto (2018) Local Universities' Strategies to Establish Undergraduate Departments and Students' Inter-regional Migration : A Focus on the "Occupancy Rate of Students in the Prefecture". The Research Bulletin of the Department of University Management and Policy Studies 8 :2185-9701
Grants
(2018) Accelerators and barriers in University Reform. Japan Society for the Promotion of Science Primary Researcher
Book & Case Publishing
Supervised by Fumihiko Yano, Tomokazu Arita, Yuko Yamamoto, Shiho Yoshino et.al (2019) Information Literacy Textbook. Ohmsha
Eichiro Nojima (2017) Educational research connecting research and practice. ERP