Introductory Japanese - Global BBA Course
Prof. Isono Hideharu, who specializes in Japanese language education and sociolinguistics, teaches Introductory Japanese courses, from level 1 to 4, in the Global BBA program. Together with other Japanese language teachers, he also teaches intermediary, advanced as well as academic Japanese skills.

Compared to a traditional language course in which students tend to acquire inactively knowledge from lecturers, our course based on the Participant Centered Learning is to encourage students to apply what they have learned in class into their daily conversations and vice versa. Students in this class will be requested to take tests of Kanji and recitation often in order to not lose touch with it. By the end of Introductory Japanese 4, students are expected to have the capability of expressing simple opinions orally, comprehending and writing texts using Hiragana, Katakana, and approximately 250 Kanjis. In addition to hard copies, cases, and the textbook, Prof. Isono also has his own website which a collection of reading/listening materials for students who are interested in more extracurricular learning.
---
---
For students who would like to take intermediate or advanced Japanese courses, a placement test will be held to determine their level of Japanese language capability. Different from Introductory Japanese which is mainly focused on basic daily conversations, Intermediate and Advanced ones put more emphasis on business and academic scenarios, where honorific terms are commonly used. It is highly suggested that those who are interested in working in Japan in the future take these courses, due to the fact that high proficiency in both written and spoken Japanese is usually necessary for job hunting.

Finally, the courses taught by Prof. Isono are not just mere language courses but they are rather, a kind of 'seminar', as in the instructor would also use some time not only to teach Japanese language but to also give guidance for students in regards to their academic experience at NUCB Undergraduate School and life in Japan.
---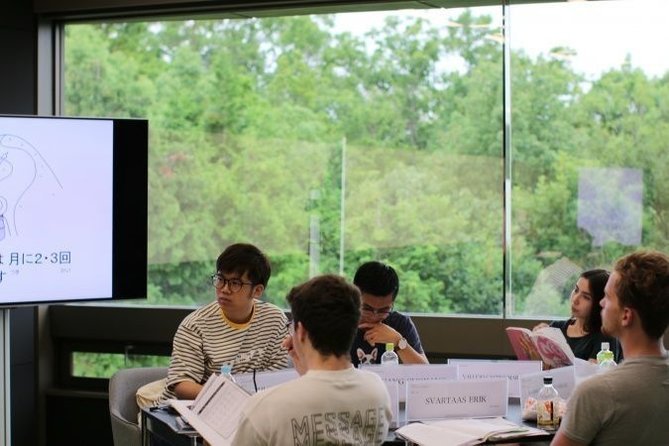 ---
We strongly recommend international students, coming to Japan, to at least learn and master an introductory level as the basic knowledge of Japanese can not only lead a more convenient life by making more services easily reachable, but can also help to make local Japanese friends.

On top of that, language is always a good way to peek through the society itself and to unravel the culture of the country from an insider perspective.
---