INCOMING EXCHANGE
What are the requirements to participate in this program?
The program is conducted entirely in English. English proficiency test results will be asked upon application with the following requirements:
・TOEFL iBT: 80
・TOEIC: 750
・IELTS: 6.0 (with a minimum of 5.5 in all four components)
Students whose home courses are taught in English do not need to submit a score certificate but a do need to submit a letter of recommendation from their academic advisor.
How much is the approximate living expense per month in Nagoya?
The average cost that the exchange students spend per month is 60,000 - 90,000 JPY excluding the accommodation fee. Living expenses in Nagoya are on average 30% lower than Tokyo.
Are there any activities outside of the classes?
---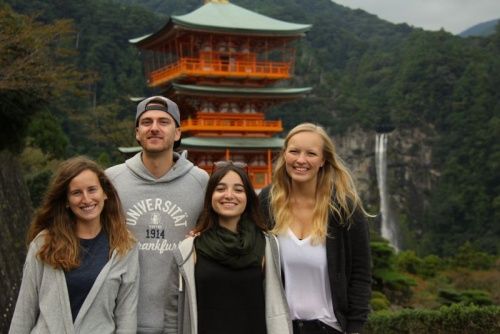 ---
Yes! As part of the Cultural Enrichment Activities, NUCB arranges and subsidizes about ten comprehensive cultural excursions experiences to deepen your understanding of Japanese culture and Japanese business practices. Past activities include trips to Kyoto, Toyota Factory, Sumo Grand Tournament and cultural activities such as local kindergarten visit, homestay, rice planting and harvesting, Buddhist Zen meditation initiation, calligraphy & tea ceremony. Our programme also includes an overnight trip to World Heritage sites such as Shirakawa-go or Kumanokodo.

Are there any items recommended to bring from home?
According to the international students' questionnaire, it is mainly recommended to bring "an adapter", "medicines", "an umbrella" and "curiosity". However, most students find almost everything they need in Japan.
Can students choose their residences?
Students are automatically allocated to one of our students' residences, we are unable to accept personal requests.
Does NUCB offer any financial support?
NUCB allocates a limited number of NUCB Housing Scholarships (¥10,000~¥40,000 JPY) based on academic transcript indicating courses and GPA scores, the student's CV/resume and cover letter.
Do students need to submit an application form for scholarship?
Exchange students staying at our residences automatically become a candidate for our residence scholarship and thus do not need to submit any application forms. The scholarship recipients are selected based on their transcript and other documents submitted upon their nominations.
Is there a holiday break during the academic year?
The schedule for international students follows a western schedule by ending classes before Christmas in December with Summer vacation during the month of August. There is no holiday break during each semester but 1-year exchange students will have time to travel or complete an internship during our Spring vacation - 3 months in January, February and March.
Which months are classes held?
The classes are held from April to late July, September to late December (or late February if you take the Intermediate and advanced Japanese classes).
What are the Japanese language courses offered at Nisshin?
We offer beginner's level Japanese language courses for international students to survive in Japan every semester. If your wish to take higher level of Japanese language courses, you can attend our intermediate and advanced classes, after a placement test.
What are the minimum and the maximum number of courses students can register per semester?
Exchange students are required to register to a minimum of 6 classes (12 NUCB credits/18 ECTS) per semester, and a maximum of 10 classes (20 NUCB credits/30 ECTS). The exact number of credits required depends on the student's home institution. Students are asked to pre-approve their course load with their academic advisors before their arrival in Japan.
How many credits does each course have? When do classes take place generally?
Each course is worth 2 NUCB credits which are equivalent to 3 ECTS credits.
Credits are attributed for 1400 minutes of contact hours, an examination and an important personal workload.
Each day is organized in 4 periods of 100 minutes, from 9:20 to 17:20: there are no night classes. Classes are held from Monday to Friday but make-up classes may be arranged on 1 or 2 Saturdays during the semester.

Do students need to pay for class materials?
Yes. Classes are based on the study of Business Cases. Students need to purchase the Business cases & textbooks or any other materials themselves. The fees differ from each course, but students must be prepared to pay approximately 2,000 - 4,000 JPY per course.
OUTGOING EXCHANGE
Are the programs conducted in English?
All the courses will be taught in English as students wanting to study abroad are expected to have high foreign language skills which is also a requirement to become a future global business leader in this globalized world.
What are the requirements to study abroad?
Average GPA: 2.4 or more
Attendance: 95% or more
TOEFL score: 80 (iBT) or 550 (PBT) or more
TOEIC score: 650 or more
Are there scholarships available?
Airfare – Round trip is included for those that meet the requirements.
Can you transfer credits?
In principle, credits acquired at the partner university are approved as credits needed in order to graduate at our university.