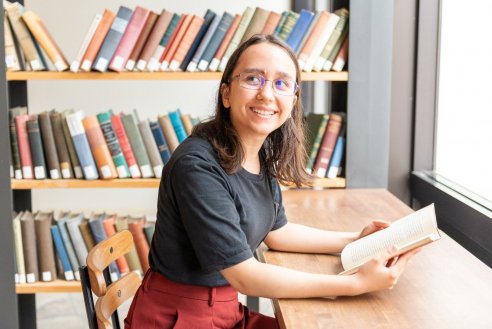 Our university offers international dormitories where both Japanese and international students reside - fostering an international community both on and off-campus where students can develop independence, a sense of responsibility, and diverse values.

Each dormitory is conveniently located for academic and club activities, allowing students to enjoy a safe and comfortable student life. We interviewed Nadine, an international student from Switzerland/Indonesia who lives in the Sambongi dormitory.
Friends from all over the world
As an NUCB student I have made friends from all over the world. I have made friends not only with international students but also with Japanese students through the Language Exchange Program, and I am learning Japanese as well. In the beginning, I was not good at speaking up in class, but thanks to my classmates, I was able to overcome this difficulty, which has enabled me to really enjoy my student life.
Independent Living
For my first time living alone, I entered the international dormitory for the convenience of commuting to school. Because Sambongi Dormitory is a women's dormitory, it is safe and secure. Now that my classes finish around 12PM, I spend my afternoons at home cleaning, cooking, and working on assignments. Since I have my own room, I can lead an independent life at my own pace. There is also a convenience store and pharmacy nearby, which is convenient, and on weekends I sometimes go out with friends to Nagoya, making it a great place to live.
Unique Scholarship Program
NUCB has a unique student dormitory scholarship system as one of its student support programs. The scholarship is available to all students regardless if they are applying from within Japan or overseas, students can enter the dormitory from as low as 10,000 yen per month.
---
---