International House Mentor: Skylar, USA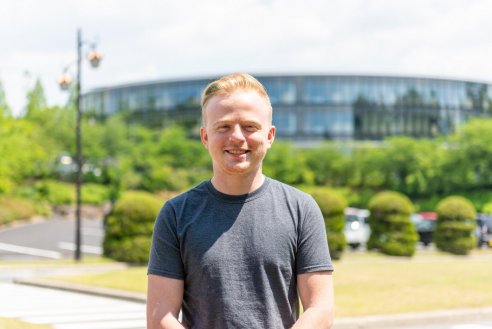 Today we interviewed Skylar from the USA, a Global BBA student who joined NUCB in 2021 after serving in the army. He has been chosen to be a mentor for high school students in our brand new boarding school opening in Fall of 2022. As a mentor, he will receive a boarding scholarship to stay for no cost in the state-of-art International House a part of Wellbeing & Guidance team to facilitate and enhance the student experience.
Learn for the future with the case method
It was my dream to go to Japan, and when I was looking for a university where I could learn about management, I found out about NUCB. The case method is very attractive to me because we can discuss actual issues that companies are facing and I can experience making high-level decisions with people from all over the world. My goal is to start my own business or work in the technology industry, and I am sure the case method will strengthen my skills for the future.
Life as a mentor
I was living in the Sanbongi Campus dormitory since I entered the school, but I moved to the International House as a mentor in May of this year. I believe I will be a good mentor as I have past experience in the United States Army, traveling the world, and working in a team. Leading is an honor, not just to prove your skills but to help build up others as well. Currently, I work in the common space of the International House, supporting the high school students in their daily lives, teaching them how to study, and planning events such as hiking. My experience here will further improve my leadership skills and give me the ability to use them when I start my own business in the future.
International House
From Fall of 2022, NUCB International College - NIC - an all-English boarding high school with IBO World School Candidacy for the IB Diploma will begin its first intake of Year 10 students. At the main Nisshin campus, a brand new boarding site will open (International House) where Global BBA students will also be eligible to stay. Those who have IBDP or boarding experience or those with exceptional academic records may be considered to be house mentors, where a scholarship of boarding will be provided (excluding meals). Mentors will be required to assist high school students alongside the house director and supervisors.
---
---