Campus Life - Cultural Enrichment Activities - Rakugo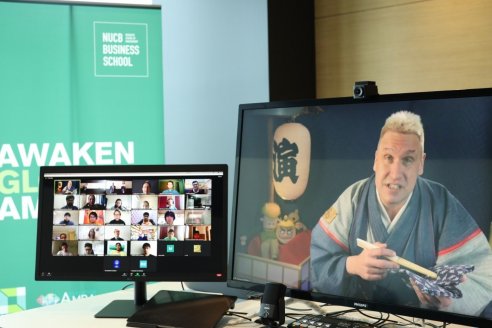 Rakugo in English & Online By KATSURA SUNSHINE
Within the Winter Program launched this week "Business for a Better World", NUCB organized a Rakugo event entirely in English open to all students.

Students experienced Rakugo online, with Mr. Katsura Sunshine, a Canadian professional storyteller active in Japan and Broadway.
---
After the session, students were invited to talk with the artist and discussed various topics such as the history of Rakugo, Sunshine's experience as a foreigner performing traditional Japanese art, the difference between Japanese and English comedy, and the business aspects of performances with the impact of the Coronavirus pandemic.
---
What is Rakugo?
Rakugo is Japan's 400-year long-running comedy.
"Rakugo" storytelling dates back to the Edo period (1603–1868) and remains popular today. The often comic monologues rely on the skill of the teller, rather than scenery or complex props. Equipped with only a kimono, fan, and handkerchief, the teller shares short comedies concluded by comical punchlines.

Rakugo is a light comedy art form. The stories have no controversial topic to unify a wide audience. Many of the stories are codified, transmitted from master to apprentice, while others are directly inspired by the teller's personal experiences.
Katsura Sunshine
Katsura Sunshine was born in Toronto Canada and holds Slovenian citizenship as well as Canadian.​
​
He began in entertainment as a playwright, composer and producer of musical theatre, and his musical Clouds ran 15 months in Toronto's Poor Alex Theatre and toured Canada.
​
In 2008 he became the 15th apprentice to the great Rakugo Master Katsura Bunshi VI, from whom he received the name Katsura Sunshine. Sunshine was the first ever Western Rakugo-ka in the Kamigata tradition (Osaka / Kyoto) and only the second in Japanese history, after his predecessor Kairakute Burakku a hundred years before.
​
Sunshine has toured over 5 continents performing in 3 languages (Japanese, English and French) and he only the second foreigner to be officially recognized as a Rakugo storyteller.
​
He made his London West End debut and New York Off-Broadway debut in 2017 for three-week runs in both cities. His open-ended run Off-Broadway at the famous New World Stages stopped at six months interrupted by the Covid-19 Pandemic, and is scheduled to re-open when Broadway theatres resume performances.
​
Sunshine divides his time between Tokyo, New York, London and Toronto.
---
---