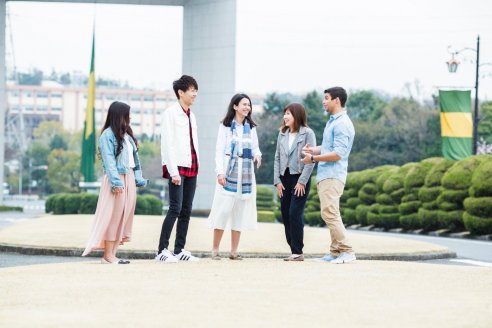 We are proud to announce 105 students from 37 nationalities are planning to join the Global BBA program for Fall 2021.

Despite a challenging year due to COVID-19, the Global BBA program has seen record numbers for full-time students and a clear increase in the quality and diversity of applications.

Since its inception, the only English-taught Global BBA Program in Japan has gone from strength to strength each year, focusing on academically outstanding students who can excel in our active learning environment using case methodology.
Diversity - at the heart of our practices
Ranked the best school for internationality in Central Japan by Times Higher Education 2021, our school provides a diverse, supportive and inclusive environment, bringing in around 200 international students from more than 35 different nationalities each year to our Nisshin Campus.

Fall 2021 includes students from four continents; Europe, Asia, North America, and Africa. Countries include; Austria, Estonia, Honduras, India, Kazakhstan, Libya, Mexico, Singapore, Thailand and America, making us one of the most diverse campuses in Japan.
---
Global Network - A Truly Global Campus
---
Through international accreditation, our school has formed alliances with 112 partner schools across 48 countries.

For Fall 2021, over 80 exchange and double-degree seeking students from more than 40 of our partner schools have chosen our Global BBA Program for their studies, continuing our strong partnerships with world-class universities such as;

Neoma Business School (France), National Taiwan University of Science and Technology (Taiwan), Lisbon School of Economics & Management (Portugal), The Chinese University of Hong Kong (Hong Kong), and The University of Limerick (Republic of Ireland).
---