NUCB Business School's SDGs Project featured in Chunichi Shimbun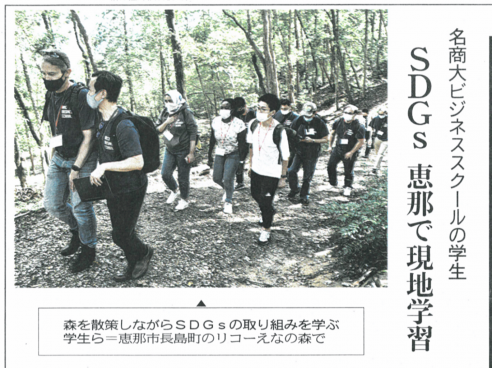 Industry-University-Regional Collaboration SDGs Project
The morning edition of the Chunichi Shimbun(published on October 15, 2021), one of the largest newspapers in Japan, reported on the Sustainable Development Goals (SDGs) initiative jointly implemented by NUCB Business School, Ricoh, and Ena City.

The "SDGs Project" at NUCB Business School, our Graduate School of Management focuses on environment-related issues among the 17 goals of SDGs, and is developed mainly through fieldwork activities.

Since last year, with the cooperation of the Ena City International Exchange Association, the students have been studying in the Ricoh Ena Forest at the Ricoh Elemex Ena Plant. This time, their supervisor, NUCB Business School Professor, Hoe Chin Goi, and eight students from Japan and overseas visited Ena City to learn about forest conservation and environmental education practices from Ricoh staff and others.

They walked through the forest to study the results and current status of forestation, and also visited a junior high school in Ena City to investigate examples of environmental education. Based on these activities, they will present their proposals for the conservation and utilization of the Ena Forest in the final class.
Excerpt: (translated into English from Japanese original article)
The learning process enables participants to engage in a number of activities, ranging from self- initiated fieldwork, conducting intensive contextual studies and collecting data through surveys and interviews in group consultations in order to complete consulting proposals for stakeholders. After the fieldwork, the participants expressed their enthusiasm for the project; one student expressed, "I would like to propose better ideas based on the inspiration I gained in the forest."
SDGs Action at NUCB
Our School has now begun linking all of its class subjects to the 17 goals to be achieved by 2030, known as the SDGs (Sustainable Development Goals), with the aim of making a contribution as an educational institution. We will continue to promote activities with an awareness of the SDGs.
---

---