The Most Dynamic Region of Japan
---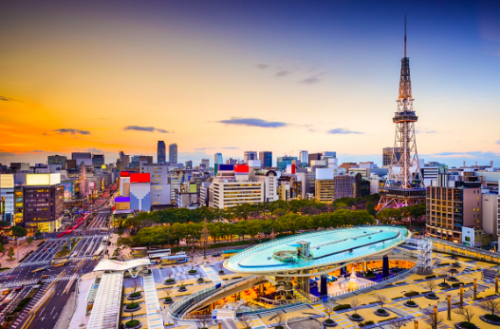 ---
Greater Nagoya is Japan's third largest metropolitan area after Tokyo and Osaka. Home to front-running companies such as Toyota, Greater Nagoya is clean, safe, and an exciting area to live in.

Located in central Japan, Greater Nagoya functions as the transportation hub of the country making travel to other destinations fast and easy. Moreover, because the area was once the home of warlords in Japan's ancient times, it is rich in historical sites and Japanese traditional culture, attracting many tourists.

A World Heritage site, Shirakawa-go, is within easy reach, and the city of Kyoto is located only 35 minutes away by Shinkansen. As such, Greater Nagoya is a place where a well-balanced synergy between modern and traditional cultures exist.
---
---
Access Map in Nagoya
---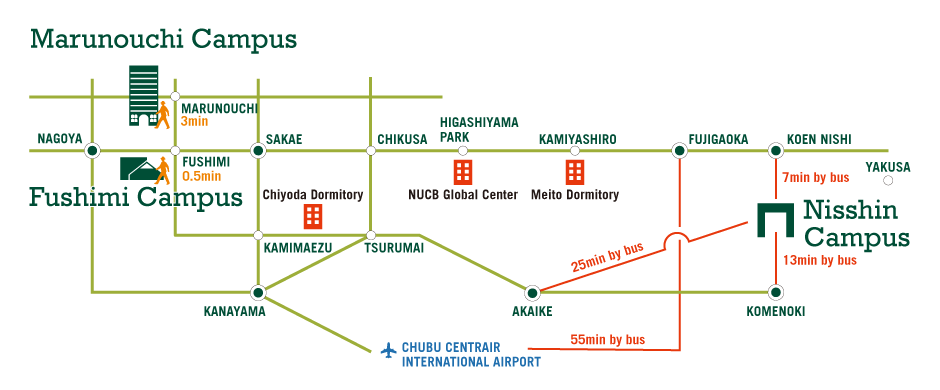 ---
Nisshin campus is located approximately 40 minutes from downtown Nagoya providing a calm and quiet environment that is very suitable for students to pursue their studies. Located closeby to the campus are shopping malls, IKEA furniture store, restaurants and coming in 2020 will be the Ghibli Theme Park.
Student Dormitories
We have dormitories available near our campus guaranteed for all 4-years of study. Full-time students on the GBBA program will be allocated to Sanbongi or Sagamine.
---
Chiyoda Dormitory
---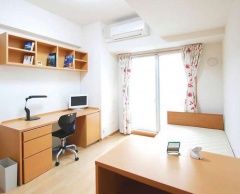 Fully furnished, single-occupancy rooms create a comfortable living environment.

Located in downtown Nagoya, the Chiyoda Dormitory has a convenient 24/7 independent access and is a 3 minutes walk to the nearest station.
---
Meito Dormitory
---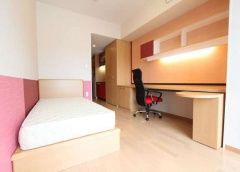 Meito Dormitory offers a fully furnished single room, including electric appliances.

Built in 2013 in the eastern part of Nagoya, both regular Japanese undergraduate students and exchange students live in this dormitory.
---
Sanbongi Dormitory
---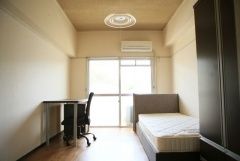 Sanbongi dormitory is conveniently located 2km from NUCB Nisshin Campus. The dormitory is also used by Japanese students and available only to females.

Single room fully furnished including appliances, located approximately 3km away from Komenoki station which is a 10-minute bus to school.
---
Sanbongi Campus Dormitory
---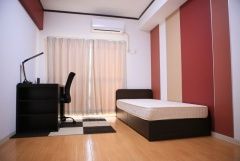 Sanbongi Campus is within walking/cycling distance (2km) to Nisshin Campus. This dormitory is newly renovated and is available only to male students.

Single room, fully furnished including appliances (washing machines/dryers are shared). Approx. 3km from a supermarket and Komenoki station.
---
Sagamine Mansion (1~3)
---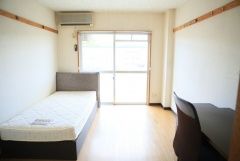 Sagamine is located about 0.1km closer to NUCB Nisshin Campus than Sanbongi.

Single room, fully furnished including appliances, only the washing machines are shared.
---
Living in Nagoya
---
Compared to other big cities such as Tokyo and Osaka, living expenses in Nagoya are relatively inexpensive and usually 20-30% cheaper.

The rental fee for a single room apartment averages 30,000 JPY and personal expenses are about JPY 40,000 to 60,000 per month. In total, the living expense per month would be around JPY 80,000 or above, but it depends on the student's lifestyle and spending habits.
| Item | Estimated Monthly Cost (JPY) |
| --- | --- |
| Accomodation | 30,000 ~ 40,000 |
| Utility | 6,000 ~ 12,000 |
| Food | 30,000 |
| Telecommunications | 5,000 |
| Insurance & Medical | 3,000 |
| Hobbies & Entertainment | 8,000 |
| Commuting | 4,000 |
| Books / Cases | 3,000 |
| TOTAL> | 94,000 ~ 104,000 |
*Living expenses vary depending on students' lifestyle and spending patterns. The amount suggested above is for reference only. There are some classes that require you to pay for case studies from institutions such as Harvard or The Case Center that is not included in the tuition.

Many students on the Global BBA program choose to either walk or cycle to school which brings the commuting costs down. Please refer to the JASSO student guide for detailed information.