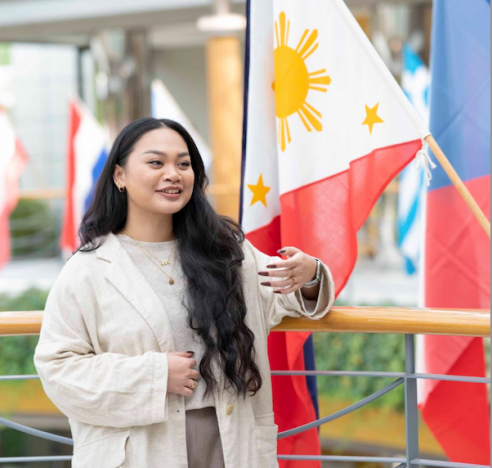 Why did you choose Japan for your studies?
I was already in Japan at the time, having worked multiple jobs during my gap year. It seemed logical to stay in the country where my family is, where I made friends, and where I felt the most comfortable.
What is one of your favorite classes and why?
One course that still stuck with me is "Global Perspectives of Japan". Living in Japan for eight years, you'd assume my knowledge of the country and its culture was overflowing. That's what I thought too, until I took the course. The course is a great mesh of Japanese history, modernized Japan, and the sociological insights of it all. I've never seen myself write that many notes in a course, ever, no joke!
What in particular attracted you to the GBBA Program?
I was seeking a university that had an all-English-based curriculum in Business, or in Law— something that is almost impossible to find in Japan.
What has been a memorable moment so far here in Japan?
Most of my memorable connections were made in NUCB. I've made long-lasting friendships with people that I never expected to meet because of the fact that they live thousands of miles away. The university's diversity is one thing that I take pride in. Every time I'd be on the phone with my mother for weekly updates, I'd have to describe to her that "oh, this is a new friend who's from Singapore", or "yeah, he's the one from France"— it makes you more aware of cultural differences and similarities. Very rewarding and definitely memorable.
What do you do in your spare time?
After the morning classes, I'd rather cook at home than buy food from the cafeteria to save money. I also get to enjoy my alone time, watching Netflix while I eat my home-cooked meals. Discover downtown Nagoya whenever you can because it is very photogenic, and the food is amazing. When I'm not hanging out with friends, I like to FaceTime the friends I don't have near me!
Are you working part-time?
During the break, I worked at Zara part-time in Kobe, and I'm thinking about working at Zara in Nagoya soon.
Tell us about your weekly schedule. How do you prepare for case studies? Was it intimidating at first?
When I had morning classes during my first semester in NUCB, I definitely took it upon myself to wake up at least 2 hours before class commences in order to eat some breakfast, do my make-up, and check the bus schedule.

After classes, I'd immediately hop on to doing homework and extra research. There is no such thing as being "too prepared", trust me. You'll thank me later. I wasn't intimidated by the workload, I was more intimidated by the classroom. There were many exchange students that were in their 3rd and 4th years, which made me insecure about what I knew. Do you know what else it did, besides making me insecure? It pushed me to do better in my studies. You have nothing to gain from feeling insecure, but so much to reap when you do better.
---
---