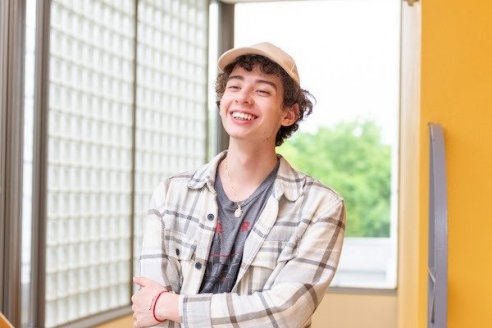 Why did you want to study in Japan?

I was already familiar with the culture due to my childhood, so while looking for a country that could improve my family's living status, I decided to come to Japan as a challenge to myself to broaden my thinking in a culture that I had yet to experience before University.
What made you choose the Global BBA Program?

I was looking for Universities abroad that I could identify with and my college counselor in High School found NUCB through the ACAC membership as an AACSB accredited school. While considering national universities, I decided to apply to NUCB mostly because I felt that I identified with their philosophy and the concept of the Frontier Spirit.

The application process was straightforward; I would say the essay-writing is a very useful tool for both applicants to understand the teaching style at NUCB and for professors to evaluate how compatible an applicant is with the program.
What is your impression of the Case Study Method?

I had no experience with the Case Method beforehand, but whenever essays, projects, and presentations were influential in my grades, I would always feel comfortable, making NUCB feel like an environment where I could study the way that fits me the most. It feels a lot more liberating to study a topic from a personal perspective, and the facilitating role of the professor also remains indispensable for students to have takeaways at the end of the day.
What has been your favorite class so far and why?

ASANTE TEACHING HOSPITAL: ACTIVITY-BASED COSTING, from Financial Management with Professor May May Ho has been my favorite case so far, with the class being among my favorites as well.

The execution of activities and analysis of the different financial factors makes the class interesting and appealing. Using Google Sheets and Breakout Rooms to incentivize teamwork and mutual-conversation also made it easier for all students to be on the same page and reach the same conclusions.
What do you do in your free time before/after class and on weekends?

Before class, I tend to go to the gym and do whatever chores and responsibilities I can fit into my schedule. After class, I go to practice as I am part of the NUCB Volleyball club.
---
---