Global Leader Program
The goal of the Global Leader Program (GLP) is to instill in our students the motivation for embarking upon or enhancing successful and rewarding careers in global business environments. Our faculty and staff members provide students with the knowledge and skills needed for future employment and leadership opportunities at the Master's level.
Start of the program

September / April

Duration

1 year full-time , 2 year part-time

Language of instruction

English

Class size

Average 30-40

Degree

Master in Management
---
Teaching Methodology
The GLP courses are 100 % conducted in English and follow the case-study method in order to promote cultural diversity and facilitate learning.
---
Duration
The Master degree can be obtained in 1 full-time year. The length of study can be extended up to 2 years for students who wish to continue working.
---
Dual Accreditation
NUCB is the first and only institution to have its programs accredited by both AACSB and AMBA in Japan.
---
Best Masters Ranking
GLP is ranked among the top in Japan in Eduniversal Best Masters Ranking worldwide 2015.
"Teaching management in the
classroom,
doing it in the
real business world"

Nigel Denscombe
Professor
Enhance Your Network
Our students represent a wide range of academic disciplines, professional experiences, and cultural backgrounds. Within the cultural and business setting of Japan, students learn the importance of intercultural communication skills in a globalized business world. Through this diverse network and dynamic confluence of leadership development, creative thinking, and interpersonal growth, NUCB students benefit from a competitive advantage that prepares them for success on the global stage.
---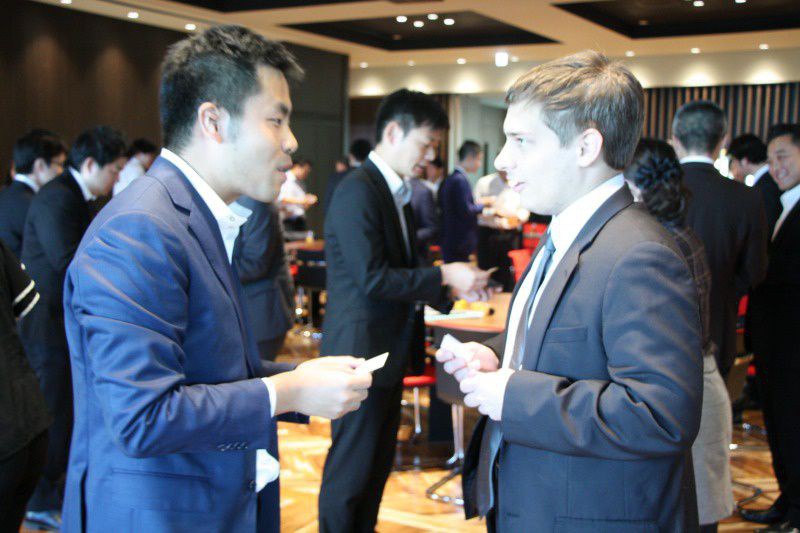 ---
Learn from the Best Practitioners
Learn advanced management skills at the highest level from NUCB's core faculty and visiting professors. The instructors at NUCB are real-world business professionals with strong global influence in their respective fields. This ensemble of teacher-practitioners are MBA or higher degree holders from renowned institutions all over the world.
---
Nationality
With students coming from more than 40 countries, NUCB maintains a multicultural environment that helps for an exchange of ideas.
---
Average Age
On average, our students are in their late 20s with several years of working experience which contributes to the quality of class discussions.
---
Scholarship
Over 60% of the international students receive a scholarship either from the Japanese government or from NUCB.
---
Gender Balance
The gender balance of 60/40 ensures high-quality class discussions that outline efficient and unbiased business solutions.
Pre Master Education
| | | |
| --- | --- | --- |
| Business Administration | 40% | |
| Accounting | 3% | |
| Economics | 31% | |
| Law | 9% | |
| Engineering | 3% | |
| Social Studies | 9% | |
| Foreign Language | 6% | |
Nationality
| | | |
| --- | --- | --- |
| Germany | 2.38% | |
| Italy | 1.19% | |
| Sweden | 1.19% | |
| Finland | 1.19% | |
| France | 30.95% | |
| Canada | 1.19% | |
| China | 7.14% | |
| India | 5.95% | |
| Japan | 2.38% | |
| Switzerland | 1.19% | |
| Kazakhstan | 3.57% | |
| Mexico | 1.19% | |
| Norway | 1.19% | |
| Poland | 3.57% | |
| Portugal | 2.38% | |
| Spain | 1.19% | |
| | | |
| --- | --- | --- |
| Taiwan | 3.57% | |
| Vietnam | 1.19% | |
| USA | 4.76% | |
| Thailand | 4.76% | |
| Philippines | 1.19% | |
| Algeria | 1.19% | |
| Uzbekistan | 1.19% | |
| Austria | 1.19% | |
| Guatemala | 1.19% | |
| Korea | 1.19% | |
| UK | 2.38% | |
| Belgium | 2.38% | |
| Ukraine | 1.19% | |
| Czech Republic | 1.19% | |
| Russia | 4.76% | |
| Tunisia | 1.19% | |
"At NUCB I've learned
how to develop
an effective team."

Jon Lilja Master in Management '13
Nationality: American
Current work: Boeing Japan

"Next Step
in Your Career."

Caroline Pulg Master in Management '11
Nationality: German
Pre-Master education: University of Cooperative Education Karlsruhe, Germany
Pre-Master work experience: Sulzer Pumps Inc, USA (trainee) dm-drogerie markt Germany
Bristol-Myers Squibb Germany

"Remarkable experience
that has changed my life around."

Ivan Petrov Master in Management '13
Nationality: Bulgarian
Education: University of Mannheim
An Innovative Curriculum
The curriculum for the Global Leader Program Master is designed to train you to become a competitive leader in the global economy. This curriculum and course material covers a variety of fields required for a Master's level of education on a global scale. At NUCB, your own perspective will be boosted by introducing the Asian perspective on business management that is emphasized when analyzing both Western-based and Asian-based companies in all aspects of the program.
---
Case Study Method at NUCB
---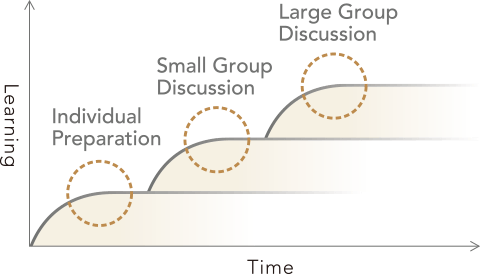 By using the case study method, students of NUCB engage in small group and large group discussions on management practices and strategy while learning how perspective plays a key role in formulating and executing a winning plan. The mutual understanding and global mindset that develop as a result of this methodology complements the overall learning goals of each business case study.
---
GLP best fits for those who want to
Learn from cutting edge business cases
Gain new insights on Asian and Japanese ways of business
Broaden their perspectives
Expand their global network
Adopt innovative solutions for their business
Global Leader Program Curriculum
---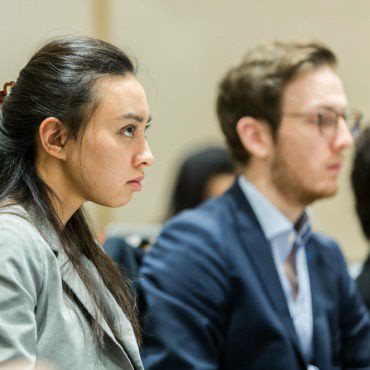 "The Power of Case
Study Method."

Cheng-wei Kao Master in Management '12
Nationality: Taiwanese
Pre-Master education: University of Evansville,
Pre-Master work experience: Hi-tech Paradise
Shanghai Taimao Electronics Co,Ltd

"Create your Com-
petitive Advantage."

Gergo Halasi Master in Management '11
Nationality: Hungary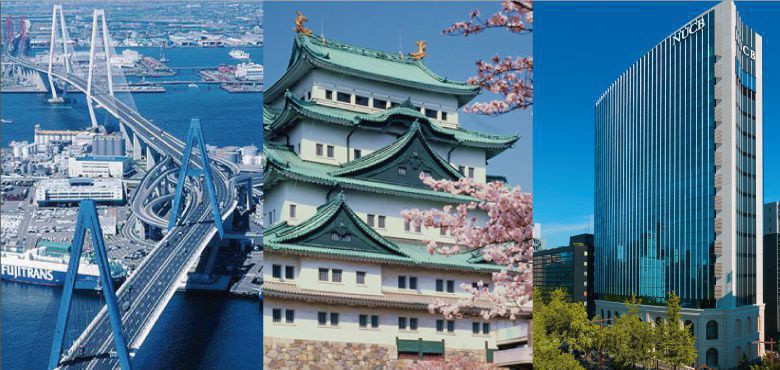 Greater Nagoya
Nagoya is the perfect place to live for those who want to experience Japan. As a global business power-region, the area known as 'Greater Nagoya' is clean, safe and technologically cutting-edge. Furthermore, Nagoya is considered the 'industrial heartland' of Japan and home to front-running companies like Toyota, Brother Industries, Mitsubishi Heavy Industries, Fuji, and Honda. The chances that you own or use something that has been manufactured in Nagoya is very high. Greater Nagoya accounted for nearly 70% of Japan's trade surplus in 2003 and annually accounts for as much as 1% of global GDP and 10% of domestic GDP.
Rich with museums, theatres, festivals and regional cuisine; Nagoya is also well-positioned as a transportation hub to the rest of Japan – making travel to other destinations convenient and effortless. Nagoya Castle and Atsuta Shrine are the two most famous sightseeing spots, while the surrounding area includes Takayama and Gero Hot Springs.
GDP of Nagoya
Los Angeles

3,950 (billion US dollars)

New York

4,450 (billion US dollars)

Nagoya

4,480 (billion US dollars)
Downtown Campus
Located in downtown Nagoya, the Nagoya Marunouchi Tower Campus has excellent access to the center of both Asian business and Japanese culture. Many international organizations and financial institutions base their head offices in Marunouchi, with entertainment and shopping districts well within walking distance in neighboring Sakae. NUCB is committed to leveraging its location as a competitive edge for attracting top business professionals as well as faculty that exhibit a strong global influence.
---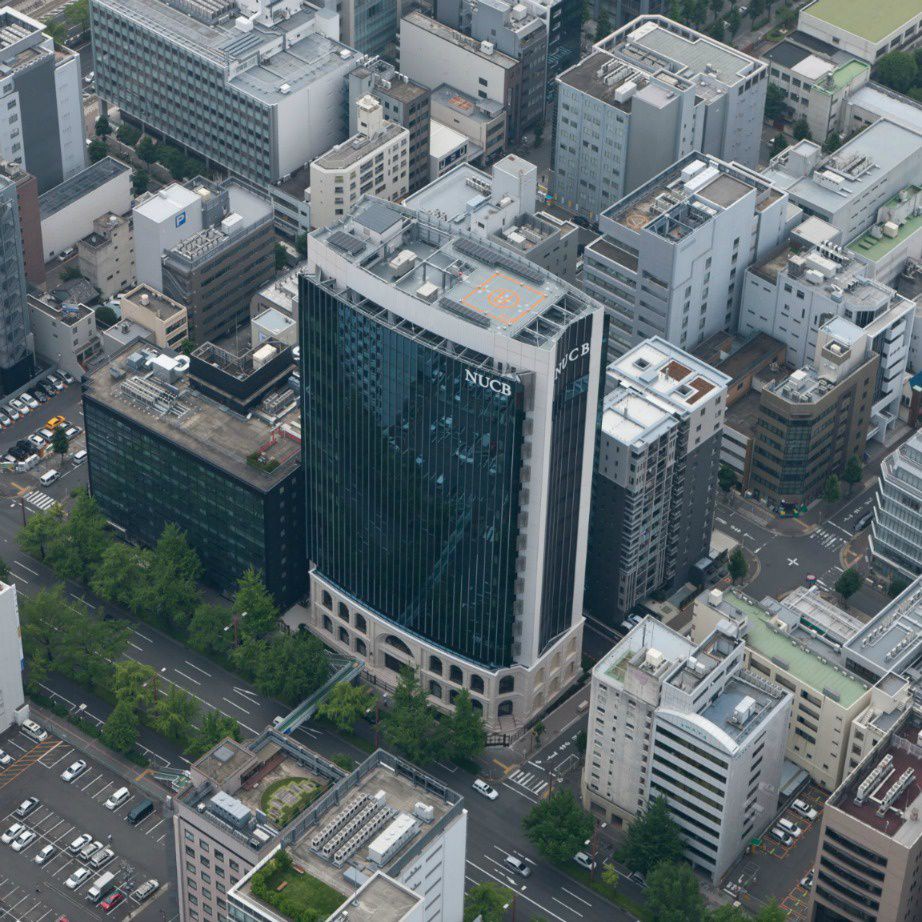 Business School of the Future
Set in a modern Asian business context, in the financial and commercial district of the third largest metropolitan region of Japan, the NUCB Business School opened the Nagoya Marunouchi Tower Campus in June 2015. At fourteen floors and 90 meters tall, the downtown campus is designed to encapsulate the tradition and innovation of academic pursuance at the highest level. State-of-the-art learning facilities and communications capabilities are built into the entire structure, as well as advanced energy-saving technology and anti-seismic architecture for long term sustainability. The NUCB Nagoya Marunouchi Tower Campus has burst onto the frontier of Master's level education in 21st century with its cutting-edge Global Leader Program at a cutting-edge urban business school.
---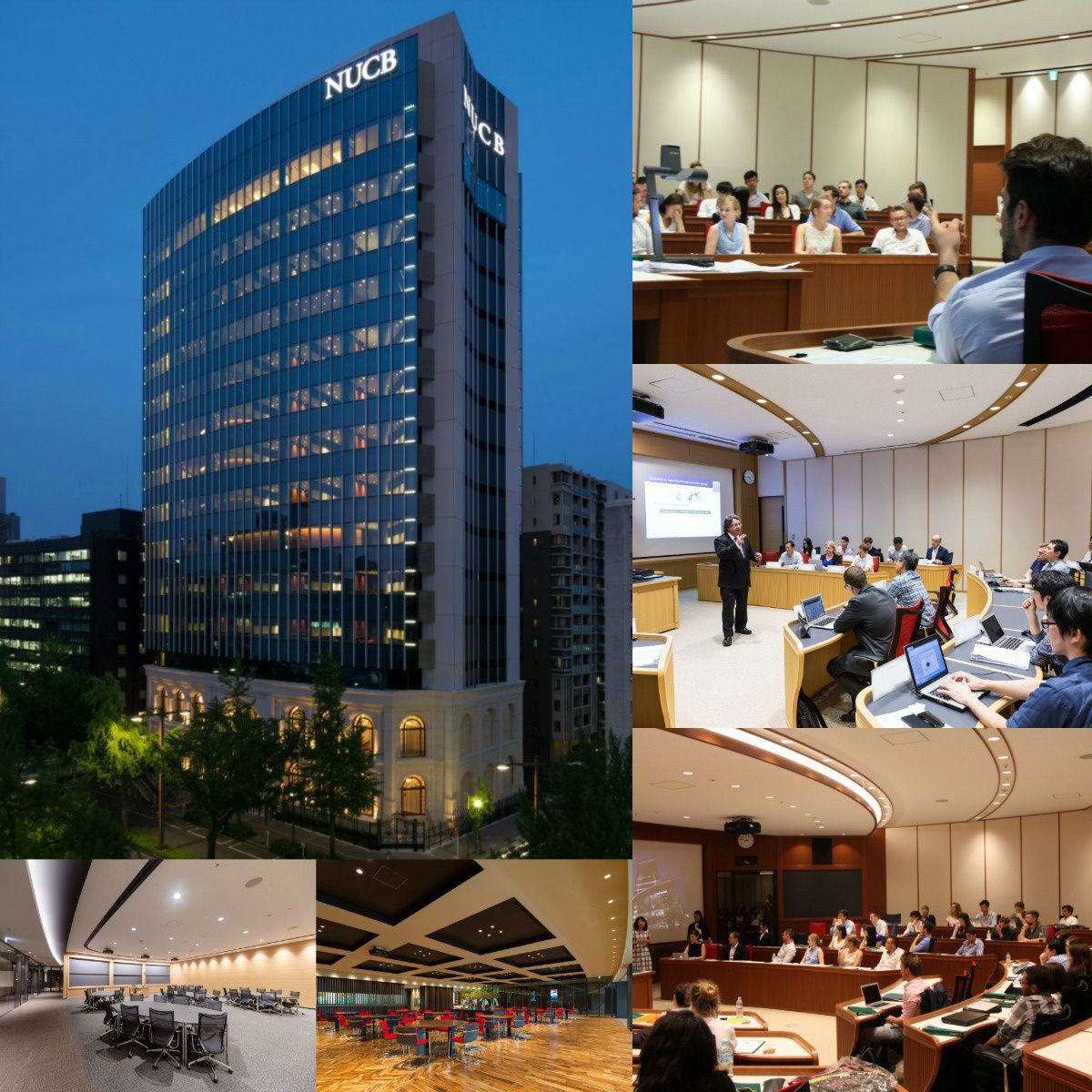 ---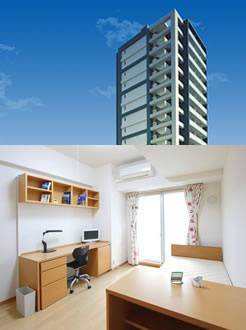 The Chiyoda dormitory
Within walking distance from the Nagoya Marunouchi Tower Campus, NUCB's Chiyoda Residence has convenient 24/7 access, wi-fi, bicycle and car parking, and a secure entrance. Located in Naka-ku, students who live in Chiyoda have easy access to the main shopping and entertainment areas of Nagoya including Sakae, Fushimi, and Osu Kannon.
The fully-furnished, single occupancy rooms create a comfortable environment for both international and domestic students. NUCB housing scholarships and financial assistance is also available.
---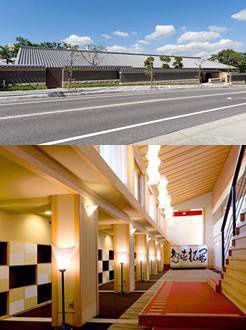 International Education Research Centre
The International Education Research Center, known by NUCB students as the Global Center, in the Higashiyama area of Nagoya has 44 single occupancy rooms, a fitness center, screening room, and large communal space for international graduate students. The residence provides a rich, comfortable living experience that complements the international research and scholarly initiatives of NUCB towards one of our main core values: international education.
---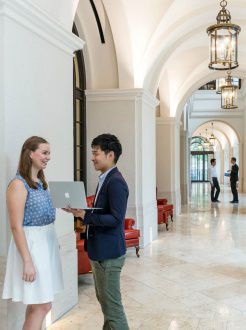 Housing Scholarship
NUCB students are eligible for housing scholarships based on outstanding academic performance. The assessment standard is based on the academic performance for the first semester after enrollment.
Housing Scholarship
JPY 25,000 - JPY 40,000/mon.
NUCB Residence Hall Rent
JPY 71,750*
---
Scholarships
---
NUCB Scholarship - Prior to Enrollment
Remission will be applied for the first semester after entrance. The recipients undergo an eligibility review every semester based on their academic performance. Candidates must enclose the application form for the scholarship with the application materials for admission.
| | Tuition Reduction | Minimum Score for Application |
| --- | --- | --- |
| A | 60% Tuition Reduction | GMAT 720 or above |
| B | 30% Tuition Reduction | GMAT 640 or above |
| C | 10% Tuition Reduction | GMAT 560 or above |
NUCB Scholarship - After Enrollment
Qualified students may receive the following tuition remission according to academic performance.
Tuition Reduction
Assessment Standards
A
60% Tuition Reduction
Required No. of Courses / Semester
Grade Point Average
Attendance Rate
Three or more
3.60 or above
100.0%
B
30% Tuition Reduction
Required No. of Courses / Semester
Grade Point Average
Attendance Rate
Three or more
3.00 or above
98.0%
C
10% Tuition Reduction
Required No. of Courses / Semester
Grade Point Average
Attendance Rate
Three or more
2.65 or above
95.0%
Government Scholarships
The Japanese government offers international students financial aid. Some of the available scholarships cover both tuition and living expense. As of 2016, NUCB received special designation from the Ministry of Health, Labour and Welfare as a program offering professional education and training. Prospective domestic students who fit the criteria may be eligible to receive a maximum of ¥960,000 JPY in the form of a reimbursement upon successful performance and completion of the program.
International Network of 114 Top Business Schools in 52 countries
---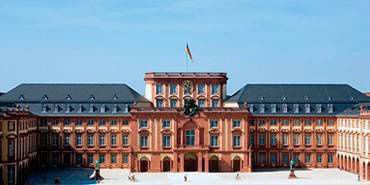 Study Abroad at Our Partner Schools
NUCB has established student exchange partnerships with 117 leading business schools, from 52 countries across 5 continents. In our exchange program, students are able to study abroad while tuition fees at partner schools are waived. There are also scholarship program for study abroad students who demonstrate the highest levels of excellence.
---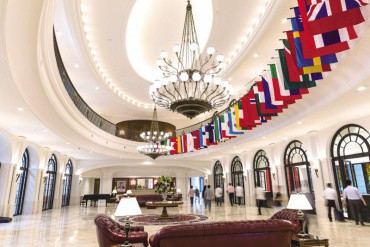 Double Degree Program
After completing one year of study at NUCB and one year of study abroad, students in our Double Degree Program obtain two Masters degrees - one at NUCB and one at a partner school. This unique program provides an advanced experience of international education, and a unique qualification with which to further your career in the global business community.
Extensive Career Support
Students have extensive opportunities to participate in recruiting activities on and off campus, including information sessions with recruiting agencies and headhunters who prize NUCB Business School graduates highly.
---

Corporate Study Tours
The NUCB Graduate School provides great practical opportunities to explore and deepen your business knowledge and skills through various company tours. The tours are accompanied by an English-speaking guide, and there is always the chance to pose your own questions through Q&A sessions at the end. The Graduate School places great emphasis on such practical learning, and we believe that visiting pioneering companies and engaging in constructive dialogue with business leaders that have made a real impact on the business world serves to both enlighten and inspire our students.
---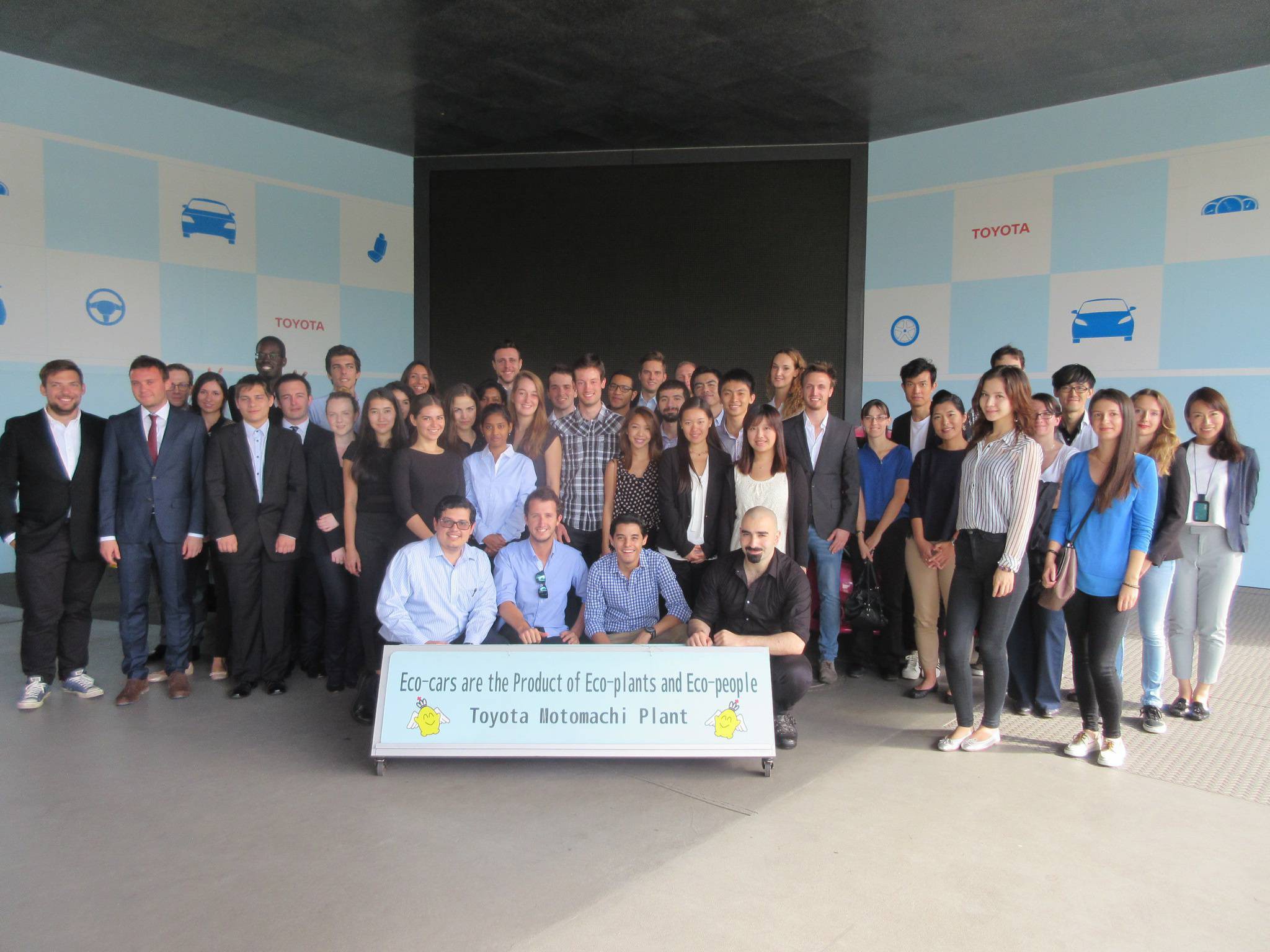 ---
One-on-One Skype Consultation
---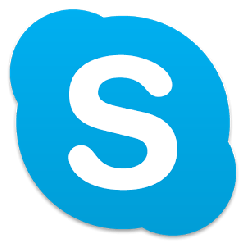 The team of the NUCB Graduate School staff member is available for one-on-one Skype conversations and consultations to answer any questions you may have on our Master's programs, admission requirements and procedures, housing options and student life in Nagoya and in Japan, etc.
Feel free to contact us for any questions!
---
FAQ
---
To see the frequently asked questions, please go to "FAQ".
Mailing Address/ Contact
NUCB Graduate School Office

1-3-1 Naka-ku Nishiki Nagoya-shi,
Aichi, Japan 460-0003
TEL: +81 52 203 8111
---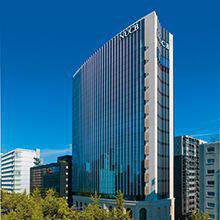 Tokyo・Osaka・Nagoya Open Information Sessions. Prospective students and applicants are welcome to visit us for individual consultation. Feel free to register at any time.
What is a 'Business School'?!
How useful is the MBA to my career?
How do MBA graduates value their the degree?
How can you balance work life and academic life?
How can I prepare for enrolling in the MBA?
For our brochure
For event registration, go to our Sign-Up form.
Open Hours
Tue.–Sat. 10:00–20:00
Sun. 10:00–18:00
Closed Mon.